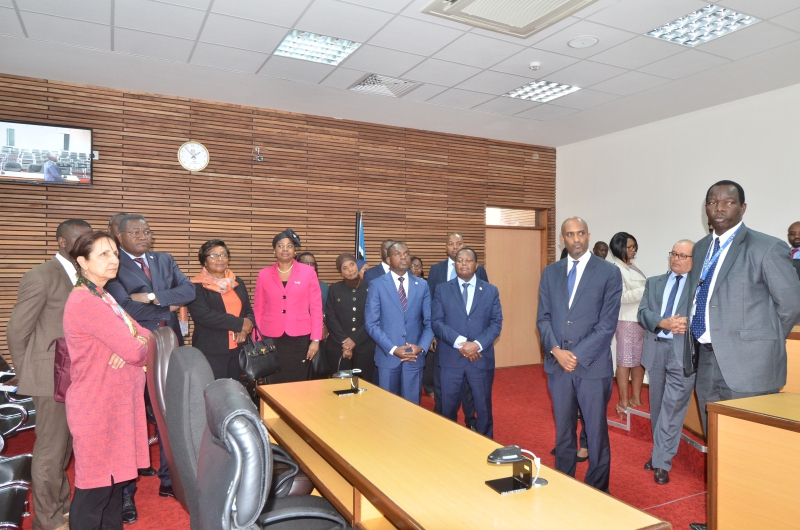 JOINT COMMUNIQUÉ OF THE AFRICAN COURT ON HUMAN AND PEOPLES' RIGHTS AND THE EAST AFRICAN COURT OF JUSTICE

JOINT COMMUNIQUÉ OF THE AFRICAN COURT ON HUMAN AND PEOPLES' RIGHTS AND THE EAST AFRICAN COURT OF JUSTICE
A delegation of the African Court on Human and Peoples' Rights led by the President, Hon. Justice Sylvain Oré and composed of ten other Judges and senior Registry staff, including the Registrar, paid a visit to the East African Court of Justice headed by Hon. Dr. Justice Emmanuel Ugirashebuja on 4 September 2018. Both Courts have their seat in Arusha, United Republic of Tanzania.


During the visit, the Judges of the two Courts discussed a wide range of issues pertaining to their respective mandates. In particular, there was a presentation of the two courts and discussions on the jurisprudence of both Courts as well as modalities for closer cooperation between them.


Among the areas identified for cooperation are judicial and staff exchange of knowledge and information, research and capacity building.


It was agreed that an MOU be developed by the Registrars of the two Courts before the end of October, 2018.
DONE AT ARUSHA, THIS 4th DAY OF SEPTEMBER, 2018
For more information, please contact:
Yufnalis Okubo
Registrar
East African Court of Justice
Arusha, Tanzania
Tel: +255 27 2162149
mail: Okubo [at] eachq.org
www.eacj.org
About the East African Court of Justice:
The East African Court of Justice (EACJ or 'the Court'), is one of the organs of the East African Community established under Article 9 of the Treaty for the Establishment of the East African Community. Established in November 2001, the Court's major responsibility is to ensure the adherence to law in the interpretation and application of and compliance with the EAC Treaty.
Arusha is the temporary seat of the Court until the Summit determines its permanent seat. The Court's sub-registries are located in the respective National Courts in the Partner States.
Tags: EACJ