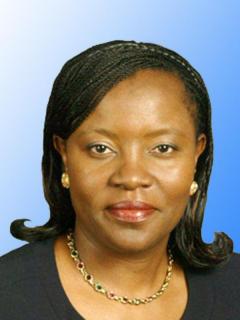 Ms Vivienne Yeda Apopo
Director-General, East African Development Bank
Ms Vivienne Yeda Apopo is the current Director General of the East African Development Bank (EADB). She assumed the position in January 2009.
Ms Apopo is an experienced professional banker and international business lawyer with over 20 years practical and comprehensive development banking, finance and business experience in Africa. She has worked in the financial sector developing projects in banking and finance in several African countries and has experience in strategic management, business operations and project management.
She has a long track record and practical experience in devising financial solutions to support programmes and projects in the public and private sectors subject to tight deadlines and budget constraints.
Ms Apopo has negotiated and structured facilities for sovereign borrowers including governments, Central Banks and Regional Economic Communities, and undertaken a number of projects with private sector borrowers.
Prior to her employment at EADB, Ms Apopo worked for the African Development Bank, as the Resident Representative and Country Manager for Zambia. Prior to that, she served as Director of Legal Affairs at the EADB.
In May 2014, Vivienne Yeda Apopo was recognized for her work at EADB, when she was awarded the "African Banker of the Year Award", by the annual African Banker Awards ceremony. In October 2014, she was named "Business Leader of the Year", by the Africa-America Institute, in recognition of her contribution to development banking, finance and business in Africa for over 20 years.
Ms Apopo holds Master of Business Administration (MBA) and Master of Laws (LLM) degrees. She has also served as a member of the Board of Directors of the Central Bank of Kenya since March 2011.