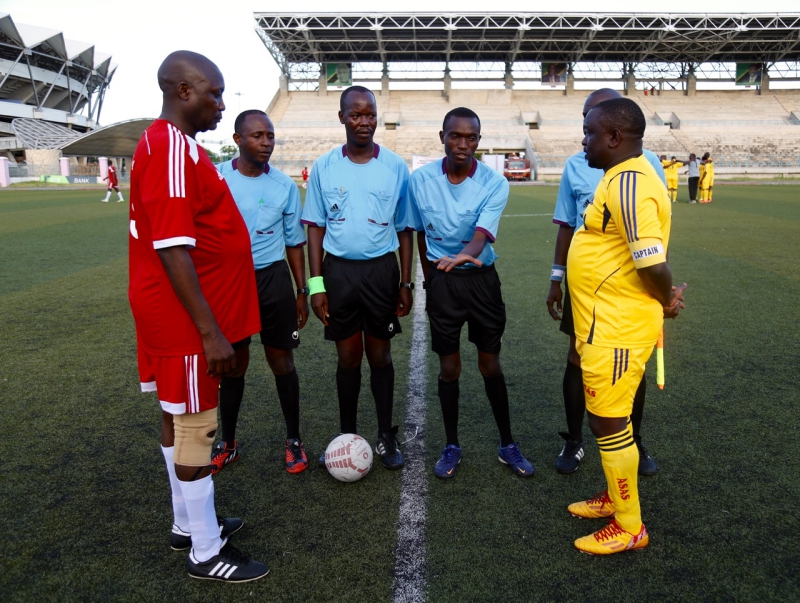 EALA too Good for Tanzania in Football
..but Dodoma Legislators pay back in kind in Netball
East African Legislative Assembly, Dar es Salaam, Tanzania, 6th December 2017:
The EALA footballing fraternity was all smiles after beating Parliament of Tanzania 6-0 in another high scoring match played at the Uhuru Stadium in Dar es Salaam as the 8th Inter-Parliamentary Games entered Day 3.
Striker Ibrahim Jamal was the toast of the team, going five past Parliament of Tanzania's Hamidu Bobali while Ahmed Mwampambe dazzled with a characteristic classical finish to give his team resounding victory.
But it was not all a smooth day for EALA who were handed a pay back of sorts in netball. To that end, Parliament of Tanzania were better, whitewashing EALA 74-8 at the indoor stadium. Tanzania's Goal shooter, Lweli Lupondo made for 62 points in a fast-paced match. EALA's top shooter was Aida Nakabugo who nipped in 6 goals.
At end of quarter one, Tanzania led 19-0. In the second quarter, EALA came back slightly more rejuvenated but could not match the swift netballers from Dodoma. At end of second quarter, Parliament of Tanzania had stretched to 36-5 and 57-5 by end of the 3rd Quarter with Lweli Lupondo and Hon Angelina Mabula notably outstanding.
Both the football and netball games however, have no bearing in terms of points in the league standing given the fact that EALA is playing in the tournament as a guest team. In the second match of the day, Parliament of Uganda earned 2-0 points (60-0) over Burundi who did not raise a team.
But at the Uhuru Stadium, EALA played flawless and crisp passes with a well-oiled midfield marshalled by the General himself, Wyclif Ketto. Time and again, Ketto sprayed the passes down the path of Ahmed Mwapambe. Meanwhile, the backline of Peter Asiimwe, Lawrence Munenzero and Boniface Ogoti held the backline superbly. It was little wonder when Ibrahim Jamal raced down the right flank to tap the ball past Keeper Bobali.
A neat combination between midfielder Ahmend Mwapambe and Jamal saw the latter lob in the second goal. Thereafter, it was payback time. Ibrahim Jamal donning shirt number three, raced down the middle and cleverly curved a chance for Ahmed Mwapambe. Mwapambe did not disappoint – but rounded off the defence line of Hon William Ngeleja and Salum Rehani to tap in the net, past an advancing Bobali.
On resumption, Tanzania came in more purposeful through the likes of Hon Rev Peter Msigwa and Mnubi Kajobi who tried a few moves – but the defence line of EALA remained solid.
In an earlier match, Parliament of Uganda returned to haunt Parliament of Burundi 3-1 to go up the table with 6 points. Muhammad Nsereko once again scored twice – including a brilliant 1-2 combination with left winger, Brian Arinaitwe. Arinaitwe later scored the third goal – while Dennis Karera scored the all-consolation goal for Burundi. ​
In the second netball match, Uganda earned two points and 60 goals over Parliament of Burundi who did not feature in the tournament.

Wednesday will see Kenya face off with EALA in netball and Tanzania lock horns with Uganda in Men's volleyball. In women's volleyball, Uganda is set to go hammer and tongs with Tanzania in what is expected to be an exciting match while Kenya will square off with EALA in football.
- ENDS -
For more information, please contact:
Bobi Odiko
Senior Public Relations Officer
East African Legislative Assembly
Arusha, Tanzania
Tel: +255-27-2508240
Fax: +255-27-2503103
Cell: +255-787-870945, +254-733-718036
Email: BOdiko [at] eachq.org
Web: www.eala.org
About the East African Legislative Assembly:
The East African Legislative Assembly (EALA) is the Legislative Organ of the Community and has a cardinal function to further EAC objectives, through its Legislative, Representative and Oversight mandate. It was established under Article 9 of the Treaty for the Establishment of the East African Community.
Tags: EALA