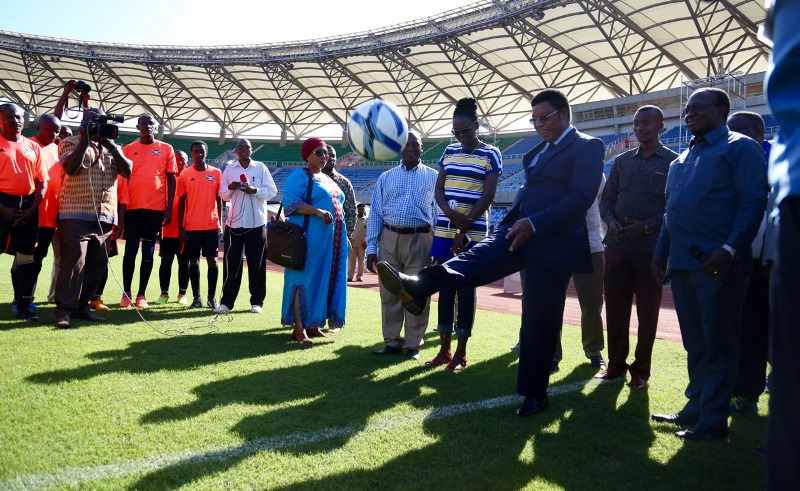 Uganda wallops Kenya 7 - 0 in Soccer
East African Legislative Assembly, Dar es Salaam, Tanzania: 5th December 2017:
Uganda has made clear its intention of retaining the football trophy. Star striker, Hon Mohammed Nsereko got the first hat trick of the tournament while Hon Peter Ogwang and and Brian Arinaitwe scored a brace each to rout Parliament of Kenya 7-0 in a one-sided match played at the Main Stadium in Dar Es Salaam.
The match graced by the Prime Minister of the United Republic of Tanzania, Rt Hon Kassim Majaliwa, was the highlight of the second day of the 8th Inter-Parliamentary Games Tournament which returned mixed results in various disciplines.
In the first football match, Parliament of Tanzania pipped Parliament of Burundi 3-2 in a close encounter. Mohammed Mchengerwa scored two goals and midfield dynamo, Yusuf Gogo added another before Parliament of Burundi reduced the deficit through Jean Marie Cimaye and Etienne Ndimubandi. It was a balanced game with Parliament of Tanzania's Yusuf Gogo and Hon William Ngeleja controlling the midfield and spraying the passes at will.
In netball, Parliament of Tanzania earned a walk-over (60-0) and two points without knocking a ball following the absence of Parliament of Burundi. On its part, Parliament of Uganda were too good for Parliament of Kenya routing them 44-11. Uganda's Hon Susan Babirye scooped 29 points while Alcas Wasike of Kenya netted 9 points
In Men's volleyball, Kenya beat Tanzania 3-1 in sets of (25-21), (19-25) (25-20) and (25-20) in a closely contested match – graced by former First Lady, Mama (Hon) Salma Kiwete.
In women's volleyball, Tanzania vs Kenya, Parliament of Kenya dismissed Parliament of Tanzania 3-1 in sets of (25-15), (25-19), (25-17) and (25-11).
Back to soccer, the Kenya versus Uganda match was the talk of the town. It was a fine day for Parliament of Uganda who exhibited crisp passes and were clearly superior in all departments. Brian Arinaitwe, Hon Dennis Obua, Hon Peter Ogwang and right winger, Hon Odonga Otto, freely roamed running rings around the Kenya defense at will. Parliament of Kenya's keeper Jimmy Okwiri pulled some fine saves to keep the marauding strikers at bay – despite having suffered a 3-0 loss at halftime.
The defense line of Hon Gideon Keter and Hon Peter Kaluma was constantly under pressure. The entry of Hon Dr Victor Munyaka somehow renewed the spirit of Parliament of Kenya, albeit momentarily.
The second half however witnessed total collapse in all departments of Parliament of Kenya, coached by Sylvester Ocholla, save for a few flashes of brilliance in the midfield by Senator Cleophas Malala of Kakamega, Hon Dan Wanyama and Nyali MP, Hon Mohammed Ali. In fact, Uganda's Keeper, Ssekide Daniel, was hardly tested between the posts.
Tuesday will see Burundi face off with Uganda in the first match before Tanzania square it out with EALA in football. In netball, Tanzania shall take on EALA before Uganda lock horns with Burundi in netball.
- ENDS -
For more information, please contact:
Bobi Odiko
Senior Public Relations Officer
East African Legislative Assembly
Arusha, Tanzania
Tel: +255-27-2508240
Fax: +255-27-2503103
Cell: +255-787-870945, +254-733-718036
Email: BOdiko [at] eachq.org
Web: www.eala.org
About the East African Legislative Assembly:
The East African Legislative Assembly (EALA) is the Legislative Organ of the Community and has a cardinal function to further EAC objectives, through its Legislative, Representative and Oversight mandate. It was established under Article 9 of the Treaty for the Establishment of the East African Community.