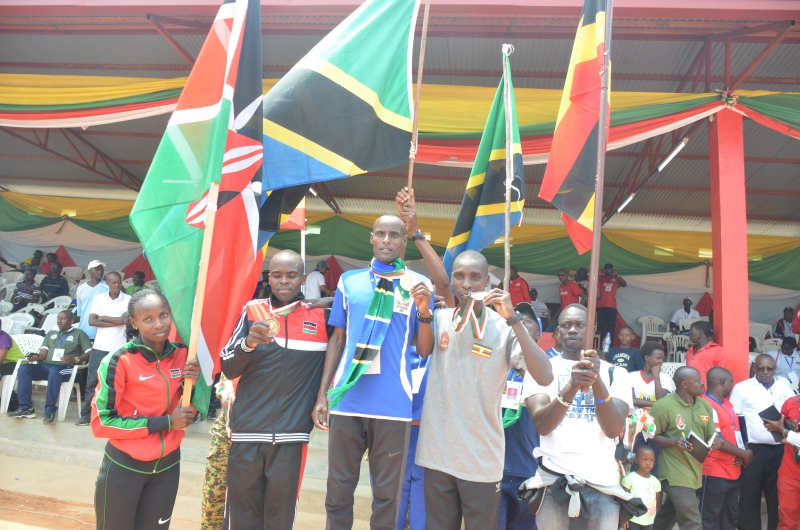 Tanzania takes 10 KM Men Cross-Country Championship
East African Community Secretariat; Bujumbura, Burundi; 04 September 2017:
The 11th EAC Military Games and Cultural Event taking place in Bujumbura, Burundi, entered its 8th day on Saturday 2nd September with an athlete from Tanzania Peoples Defence Force taking the lead in the 10 Km cross-country race for men, while an athlete from the Kenya Defence Force became the champion of the 10 Km cross-country race for women in a tightly contested race that was held within Bujumbura City.
In the Men's race, Emmanuel Giniki Gisanoda from Tanzania touched the finish line at 29'52'' 81 minutes, followed by Chepkorom Ezekiel from Uganda at 29'57'' 60, and Hillary Kering from Kenya finished third at 30'02''79.
Joseph Amnaay Panga from Tanzania was 4th at 30'11''94, 5th was Semwiko Ben from Uganda at 30'14''71, and 6th was Victor Kiplimo from Kenya at 30'17''44, among others.
In the Women's race, Mercy Njoroge from Kenya clocked 35'32'' 28 to win the race, followed by Cheptegei Rabecca from Uganda at 35'34'' 35 minutes, and 3rd was Jackline Juma Sakilu from Tanzania at 36'03''41.
Marion Kibor from Kenya was 4th with 36'06''55 minutes, 5th was Magdalena Crispin from Tanzania with 36'14''81, and 6th position was taken by Nahimana Cavaline from Burundi at 36'16''29 minutes, among others.
In the overall performance/ranking in both the Men and Women's races, Tanzania took the 1st position, followed by Kenya, Uganda was 3rd and Burundi took the 4th position.
Addressing the contingents, athletes, invited guests and thousands of civilians that thronged the Military facility where the race took place, Brigadier Salvatore Nahimana who represented the Chief of Defence Forces of BDF, expressed gratitude to the organizers of the EAC Games and Cultural Event 2017 for their real commitments shown in the organization and conduct of all the activities of the event.
Brig. Nahimana said the talents of the athletes as exhibited on the track was promising and that the future of cross country was surely better, not only in the region but also across the globe.
The games lined up for Day 9, Sunday 3rd September 2017 are:
Football: Tanzania vs Kenya from 16:00hrs at Prince Louis Rwagasore Stadium;
Basketball: Burundi vs Tanzania (15:30-17:00);
Netball: Burundi vs Uganda (16:00-17:30);
Volleyball: Tanzania vs Kenya (09:00-10:30).

- ENDS -
For more information, please contact:
Mr Owora Richard Othieno
Head, Corporate Communications and Public Affairs Department
EAC Secretariat
Arusha, Tanzania
Tel: +255 784 835021
Email: OOthieno [at] eachq.org
About the East African Community Secretariat:
The East African Community (EAC) is a regional intergovernmental organisation of five Partner States, comprising Burundi, Kenya, Rwanda, Tanzania and Uganda, with its headquarters in Arusha, Tanzania.
The EAC Secretariat is ISO 9001: 2008 Certified