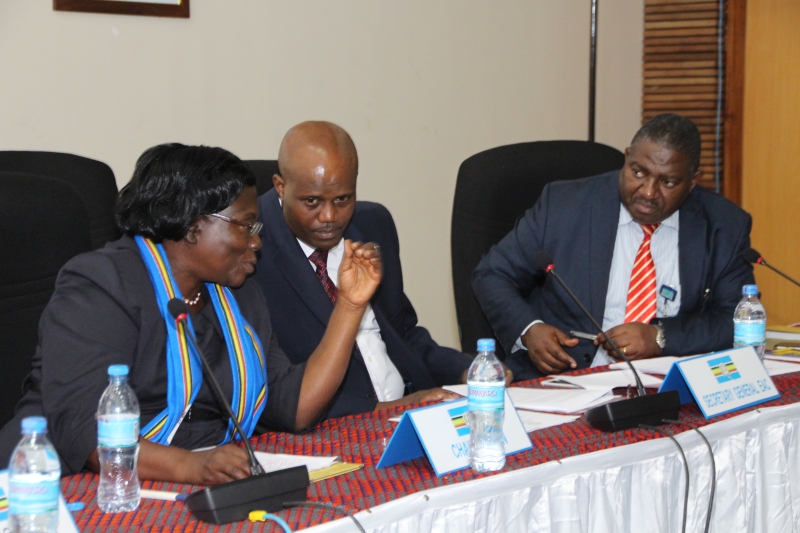 EAC Pre-Budget Conference for FY2018/19 underway in Arusha
East African Community Secretariat; Arusha, Tanzania; 31 August 2017:
The East African Community (EAC) Pre-Budget Conference for the Financial Year 2018/19 is on-going at the EAC headquarters in Arusha, Tanzania to discuss key priority areas and targets to guide the budget formulation as well as the corresponding activities for 2018/19.
The 31 August to 1 September, 2017 Pre-budget Conference is expected to come up with key strategic issues to be addressed by the Community during the Financial Year 2018/2019, as well as sector specific objectives, outputs and activities to be achieved, delivered and implemented respectively.
Addressing the conference at the official opening session the EAC Secretary General, Amb Liberat Mfumukeko said Pre-Budget Conference is happening at a time when EAC is finalizing preparations for the 5th EAC Development Strategy 2016/17 – 2020/21. "I am glad that priorities and development objectives as well as strategic interventions therein stipulated have been validated by Stakeholders''
Amb Mfumukeko urged the participants to appreciate the role of the Organs and Institutions of the Community, as well as the Partner States in moving the integration process forward as they discuss the priority areas, strategic interventions and activities to be implemented over the financial year 2018/19.
''We therefore require priority areas and targets that can bring the EAC integration agenda to have impact on the lives of the citizens of East Africa, the actual owners of the integration process''
The following are six (6) Priority Areas of focus for the Financial year 2018/19:
Further liberalization of the free movement of labour, goods and services;
Improved cross-border infrastructure to ease the cost of doing business;
Enhanced regional industrial development and agricultural productivity and transformation through investment in key priority areas;
Implementation of the roadmap for the attainment of the EAC Monetary Union;
Strengthen Peace, Security and good governance and institutional framework for the EAC Political Confederation;
Improve socio-cultural welfare of the people in the region; and
Institutional transformation
The Pre-Budget Conference, which has become part of the EAC Annual Planning and Budgeting cycle, is being attended by officials from the Partner States, EAC Organs and Institutions
The Annual EAC- Budget conference is in response to the Council of Ministers directive of involving as many stakeholders as possible in the process of formulating the EAC Annual Budget.
During the Plenary session by the East Africa Legislative Assembly's (EALA), in Bujumbura, Burundi in May 2009, it was also recommended that the Council organizes a Pre-Budget conference annually involving key stakeholders.

- ENDS -
For more information, please contact:
Mr Owora Richard Othieno
Head, Corporate Communications and Public Affairs Department
EAC Secretariat
Arusha, Tanzania
Tel: +255 784 835021
Email: OOthieno [at] eachq.org
About the East African Community Secretariat:
The East African Community (EAC) is a regional intergovernmental organisation of five Partner States, comprising Burundi, Kenya, Rwanda, Tanzania and Uganda, with its headquarters in Arusha, Tanzania.
The EAC Secretariat is ISO 9001: 2008 Certified