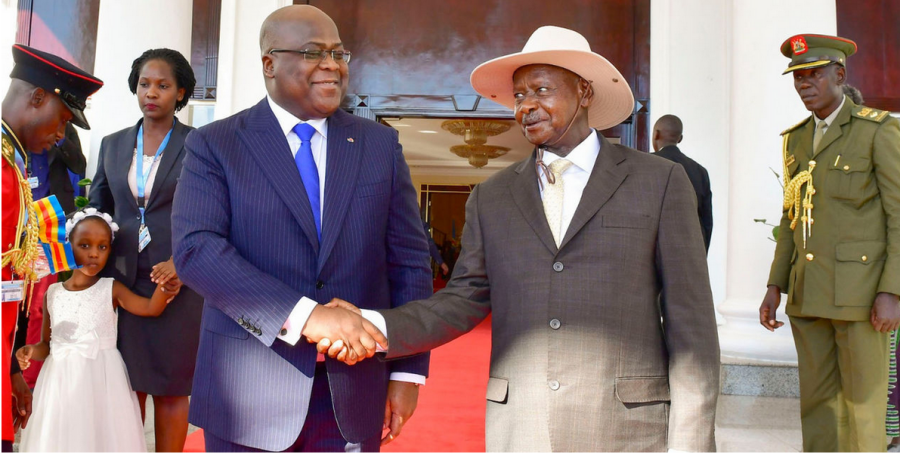 EAC applauds Uganda and the Democratic Republic of Congo for visa free initiative
East African Community Headquarters, Arusha, Tanzania, 26th October, 2023: The East African Community (EAC) has applauded the decision by the Republic of Uganda and the Democratic Republic of Congo (DRC) to waive visa fee requirements for citizens travelling across their borders.
The decision which was taken during the 8th Ordinary Session of the Joint Permanent Commission between the two Partner States in Kinshasa, DRC, on Saturday, 21st October, 2023 will significantly enhance trade which is the driving force behind the integration process.
Uganda becomes the third EAC Partner State to waive visa requirements for DRC citizens after Kenya and Tanzania.
The EAC Secretary General, Hon. Dr. Peter Mathuki, said that the move by Uganda and DRC to waive visa fees for their nationals was in harmony with the provisions of the EAC Common Market Protocol, which among other freedoms and rights, provides for the free movement of persons and workers across the region.
Dr. Mathuki said that the waiver of the visa entry requirements was a sign of political goodwill among the Partner States in moving forward integration, adding that it would go a long way in promoting intra-regional trade that currently stands at just 15%.
"This decision marks a significant stride towards enhanced regional integration, promoting unity and collaboration among member states. The removal of these travel barriers will not only facilitate the free movement of people but also spur trade, tourism, and cultural exchanges within the region," said the Secretary General.
"Where people are allowed to move freely across national borders, trade volumes will go up. In addition to the increased trade, we are bound to witness free movement of labour, cultural exchange and domestic tourism in East and Central Africa," said Dr. Mathuki.
"The increased opportunities for trade and investment in our region will fire up socio-economic growth across the bloc, which is endowed with huge human and natural resources," he said.
"The lifting of the visa restrictions will further strengthen the bonds of friendship and cooperation between Uganda and DRC, ultimately benefiting the entire East African region," added Dr. Mathuki.
DRC joined the EAC two years ago as its seventh Partner State. The other Partner States are the Republics of Burundi, Kenya, Rwanda, South Sudan, Uganda and the United Republic of Tanzania.
Article 10 of the EAC Common Market Protocol states that citizens of EAC Partner States are at liberty to accept employment within the territories of Partner States other than their own.
Dr. Mathuki urged other Partner States that have not yet waived visa requirements for DRC citizens to expedite the negotiations with the bloc's newest member in line with the provisions of the Common Market Protocol on the free movement of persons and workers.
Article 7 of the EAC Common Market Protocol stipulates that 'EAC Partner States shall ensure non‐discrimination of the citizens of the other Partner States based on their nationalities by ensuring entry of citizens of the other Partner States into the territory of the Partner State without a visa and free movement of persons who are citizens of the other Partner States within the territory of the Partner State.'
It further outlines that 'EAC citizens are allowed to stay in the territory of a Partner State and exit without restrictions.'
For more information, please contact:
Simon Peter Owaka
Senior Public Relations Officer
Corporate Communications and Public Affairs Department
EAC Secretariat
Arusha, Tanzania
Tel: +255 768 552087
Email: This email address is being protected from spambots. You need JavaScript enabled to view it.