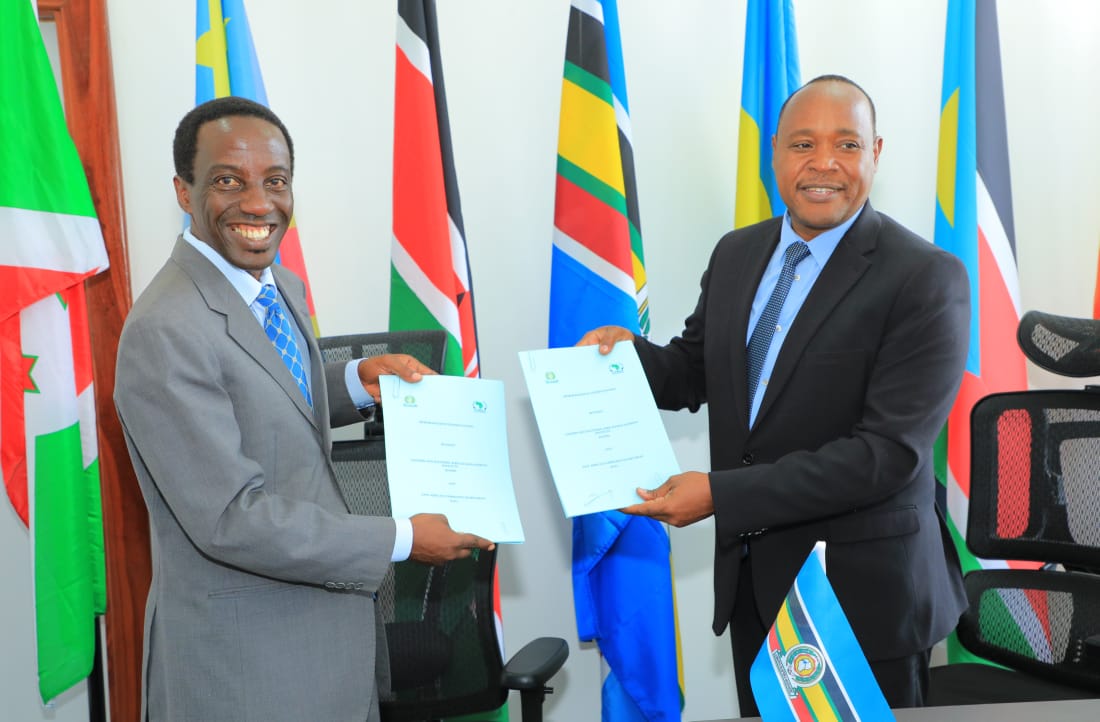 EAC and ESAMI to partner on capacity building on regional trade issues
East African Community Headquarters, Arusha, Tanzania, 6th March, 2023: The EAC Secretary General Hon. (Dr.) Peter Mathuki and the Managing Director of the Eastern and Southern African Management Institute (ESAMI), Dr. Martin Lwanga, have signed a Memorandum of Understanding (MOU) establishing a framework of collaboration in jointly developing training and capacity-building activities in trade-related areas, in a bid to foster greater business development and enhance the region's competitiveness.
The partnership between ESAMI and EAC will further undertake to provide training programs in all trade and trade-related areas of interest to the EAC and within the capacity of the Trade Policy Training Centre in Africa (TRAPCA).
TRAPCA is one of the centers of ESAMI, which was established in 2006 as a result of collaboration between ESAMI, the Lund University of Sweden, and the Swedish International Development Cooperation Agency (SIDA). It has a mandate of building and enhancing capacity in trade policy matters in the developing countries in Sub-Saharan Africa among others, covering areas such as trade in goods, trade in services, SMEs and MSMEs, e-commerce, trade and environment, trade and gender and trade facilitation with a view to building a pool of East African experts within the Secretariat and officials from the Partner States.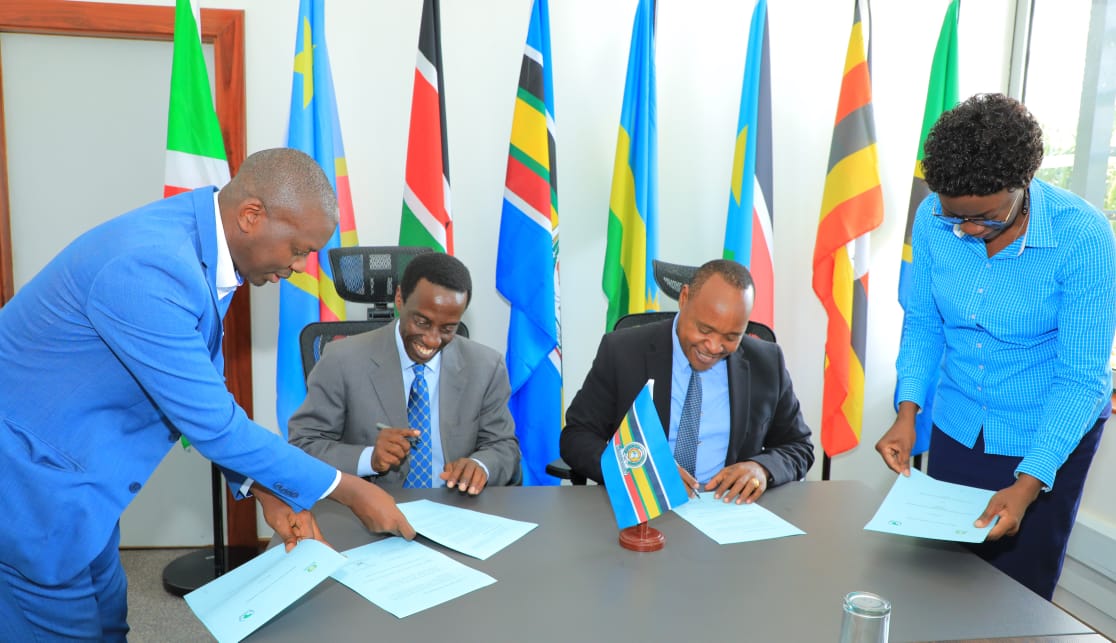 The partnership will enhance capacity-building interventions aimed at the business fraternity of the community with a view to fostering greater business innovation and development thereby enhancing the competitiveness of the East African region as a whole.
Dr. Mathuki stated that through this collaboration, EAC will organize high-level policy dialogues on critical EAC trade policy issues at bilateral, regional, and multilateral levels for both the public and private sector institutions.
"The Competitiveness in both the public and private institutions in service delivery is facilitated greatly by the identification, replication, and alignment of best practices in trade and trade policy within the region, thus this is a great step," he added.
On his part, Dr. Lwanga revealed that the EAC and ESAMI will jointly engage in the identification of competitiveness attributes within the region, provide technical training on both conceptualization and adoption of the best practices in pursuit of competitiveness of the EAC region.
For more information, please contact:
Simon Peter Owaka
Senior Public Relations Officer
Corporate Communications and Public Affairs Department
EAC Secretariat
Arusha, Tanzania
Tel: +255 768 552087
Email: sowaka [at] eachq.org
About the East African Community Secretariat:
The East African Community (EAC) is a regional intergovernmental organisation of seven Partner States, comprising the Republic of Burundi, the Democratic Republic of Congo, the Republic of Kenya, the Republic of Rwanda, the Republic of South Sudan, the Republic of Uganda and the United Republic of Tanzania, with its headquarters in Arusha, Tanzania.
The EAC Secretariat is ISO 9001: 2015 Certified