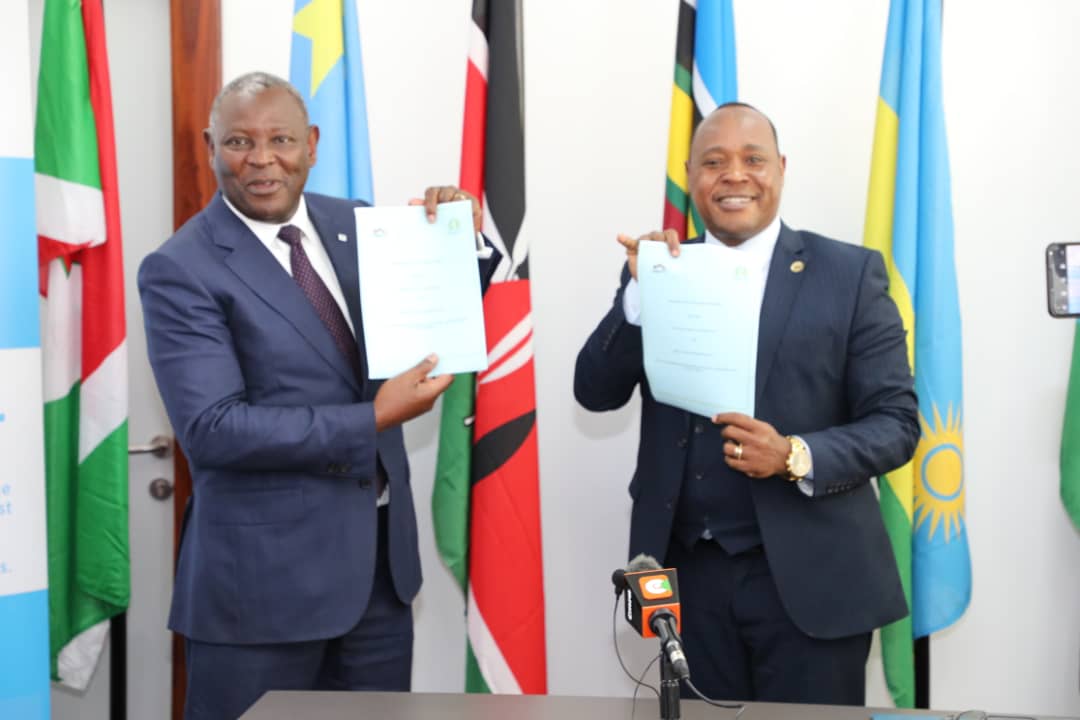 The EAC and Equity Group sign Partnership Agreement to deepen regional economic integration
East African Community Headquarters, Arusha, Tanzania, 21st July 2022: On the sidelines of the High-Level Retreat for the Summit on the East African Community (EAC) Common Market, the EAC and Equity Group signed a Memorandum of Understanding (MoU) to deepen the economic and social integration of the East African region and to accelerate the implementation of Equity Group's `Africa Recovery and Resilience Plan'.
The partnership seeks to support the East African Community focus area of creating a Common Market as per the EAC's 6th Development Strategy and EAC Vision 2050 strategy and the `Africa Recovery and Resilience Plan', which focuses on the economic recovery and resilience in Africa, in a post-COVID 19 environment. The initiative is a framework for socio-economic transformation for the people of the African continent based on 6 integrated pillars aimed at catalyzing a natural resources-led transformation of Africa, enhancing agriculture output, formalizing extractive value chains, and connecting these primary sectors to global supply chains that are broken and require diversification and secured sourcing.
The two institutions have partnered to work on the private sector economic recovery and resilience stimulus plan which Equity has seeded with a USD 6 Billion fund focusing on the primary sectors of food and agriculture, extractives, manufacturing and logistics, trade and investments, social impact, health, and environmental investments, and creating a technology enabled economy for Africa. The partnership will among others, support the creation of 50 million jobs by 2025, with 5 million SMEs being able to receive loans to scale and grow, utilizing tools of the East African Community Agreement and creating additional private sector lending with an envisaged loan book to be directed to agriculture (30%), manufacturing (15%), and MSMEs (65%).
During the signing of the MOU, Hon (Dr.) Peter Mathuki, Secretary-General of the East African Community noted that the EAC is committed to increasing public-private partnership to scale-up intra-EAC trade as well as cross-border investment. "The EAC is people-centered, market-driven, and private sector led. This partnership is timely and will help to accelerate the resolution of the bottlenecks and to promote cross-border trade which was $583 Million in 2021. With such private-sector partnership, we are optimistic that we will fast-track this growth," he said.
Dr. James Mwangi, Equity Group Managing Director and CEO said, "The partnership between Equity Group Holdings and the East African Community brings together the EAC's convening power and Equity's commitment to champion the social economic prosperity of the people of Africa. Success only occurs when opportunity meets preparedness. This partnership is to serve our people to seize the opportunity at hand," said Dr. Mwangi. He added that, "Equity has put at the disposal of the business community USD 6 Billion to support productivity enhancement, mechanization and industrialization of key economic sectors including agriculture, mining, manufacturing, and trade."
The East African bloc is the most integrated and interconnected in Africa and has a 300 million people market that holds great promise for cross border trade. Dr. Mwangi noted, "The region can aim for a 70% cross border trade level, which is a world class standard held by global blocs such as the EU". He said the partnership will also support formalization of MSMEs to enable them to play a bigger role in building the economy back better.
About Equity Group
Equity Group Holdings Plc. is a Pan-African financial services holding company listed at the Nairobi Securities Exchange, Uganda Securities Exchange, and Rwanda Stock Exchange with banking subsidiaries in Kenya, DRC, Rwanda, Uganda, Tanzania, South Sudan, and a Commercial Representative office in Ethiopia. It has other subsidiaries in investment banking, insurance, telecom, fintech and social impact investments. Equity Group is the largest financial services institution in the region with assets of Kshs 1.35 trillion (USD 13.5 billion). It is also the biggest bank in deposits, market capitalization of USD 2 Billion and with a customer base of over 16.4 million customers.
For more information, please contact:
Simon Peter Owaka
Senior Public Relations Officer
Corporate Communications and Public Affairs Department
EAC Secretariat
Arusha, Tanzania
Tel: +255 768 552087
Email: sowaka [at] eachq.org
About the East African Community Secretariat:
The East African Community (EAC) is a regional intergovernmental organisation of six Partner States, comprising Burundi, Kenya, Rwanda, South Sudan, Tanzania and Uganda, with its headquarters in Arusha, Tanzania.
The EAC Secretariat is ISO 9001: 2015 Certified