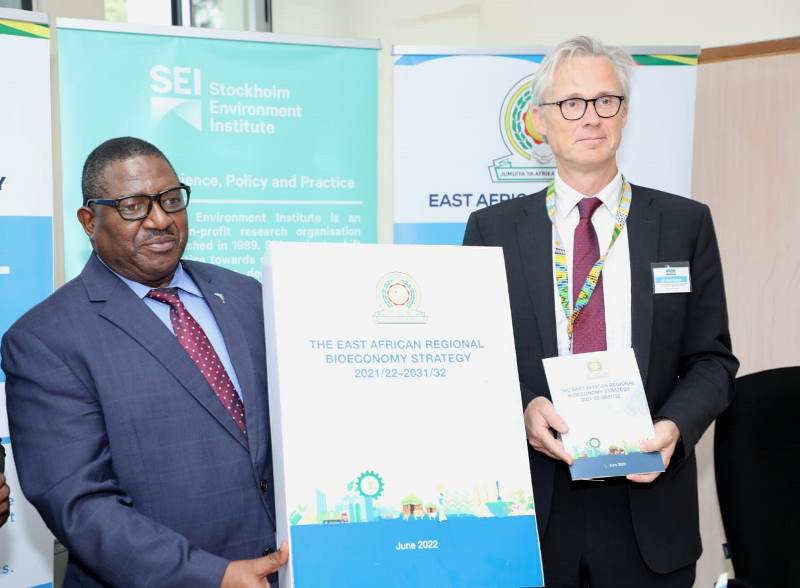 EAC unveils Regional Bioeconomy Strategy 2021/22-2031/32
East African Community Headquarters, Arusha, Tanzania, 23rd June, 2020: The East African Community has unveiled the Regional Bioeconomy Strategy 2021/22-2031/3 at the EAC Headquarters in Arusha, Tanzania.
The strategy will offer an opportunity for Partners States to achieve their individual aspirations, making use of the region's abundant natural resources, including underutilized agricultural waste materials, to produce value-added products with applications in many sectors including food, health, energy and industrial goods.
Among the key interventions proposed in the strategy that was unveiled by the EAC Deputy Secretary General in charge of Planning and Infrastructure, Eng. Steven Mlote, on behalf of the Secretary General, is the creation of new forms of sustainable bioenergy, and the conversion of waste materials to useful products.
The strategy further seeks to ensure the transformation of economies and place innovation in bio-based products and processes at the centre, with a bio-based circular economy as the organising framework.
In addition, the strategy will contribute immensely through effective, efficient and sustainable production and use of bio-based materials, products, processes and business models to drive the sustainable development in the region.
Speaking at the event, Eng. Mlote said that bioeconomy growth offers an opportunity for countries in Eastern Africa to achieve many of the Sustainable Development Goals by 2030, making use of the region's abundant natural resources to produce value added products, thereby creating jobs, improving health and food security, generating wealth, and connecting smallholder farmers to new biobased value chains
"Today, more than 65% of the population in Eastern Africa depends on biological resources for food, energy, medicine, and other uses. They frequently use these biological resources in their raw form and dispose of significant portions as biological waste. There is therefore huge potential to add value to these biological resources through the development of a bioeconomy," said Eng. Mlote.
Eng. Mlote further said that the development of a modern bioeconomy in Eastern Africa has significant potential to support several critical development goals and targets for the region, and will help deliver the different outcomes including: sustainable industrialization, job creation and green growth; improved food security; health; the creation of new biobased products and linking farmers and bio entrepreneurs to local, national, regional and international markets opportunities.
In his remarks, the Executive Secretary of the East African Science and Technology Commission, Dr. Sylvance Okoth, said the Bioeconomy Strategy is aligned to expressed commitments to environmental sustainability, climate change adaptation and mitigation aimed at reversing unsustainable policies and practices.
"This strategy is anchored on four thematic areas; Food security and sustainable agriculture; Health and wellbeing; Sustainable Energy, and bio-based Industrial Development," said Dr. Okoth.
The Executive Secretary further noted that the strategy will enhance the transformation of economies and place innovation in bio-based products and processes at the centre, with a bio-based circular economy as the organising framework.
Notes to Editors
The promotion of a bioeconomy is high on the agenda for many countries globally, as a major strategic driver for the transformation of biobased sectors for sustainable economic growth and development. A central feature of the bioeconomy is that scientific research, knowledge and innovation can be applied not only for the production of food, feed, fibre and fuel but also to produce a wide range of agro-industrial and value-added products. Another critical element of the bioeconomy is to build value around local bioresources, maximising and using all parts of primary produce and their products.
To date, none of the countries in the region have a dedicated bioeconomy policy or strategy, and the concept of bioeconomy is generally not broadly understood. Nevertheless, the majority of countries have strategic initiatives to stimulate economic development, mainly focussed on bio-based resources.
All countries in the region have untapped bio-waste materials from the agro-processing sector (sugar, breweries, coffee, tanneries and abattoirs, food processing etc.) that could be used as building blocks for expanded utilisation of bioprocesses and the growth of agro-industries. However, the dominance of the informal sector in countries in the region, and a shortage of investment funds, hamper the development and growth of significant bioprocessing initiatives.
For more information, please contact:
Simon Peter Owaka
Senior Public Relations Officer
Corporate Communications and Public Affairs Department
EAC Secretariat
Arusha, Tanzania
Tel: +255 768 552087
Email: sowaka [at] eachq.org
About the East African Community Secretariat:
The East African Community (EAC) is a regional intergovernmental organisation of six Partner States, comprising Burundi, Kenya, Rwanda, South Sudan, Tanzania and Uganda, with its headquarters in Arusha, Tanzania.
The EAC Secretariat is ISO 9001: 2015 Certified