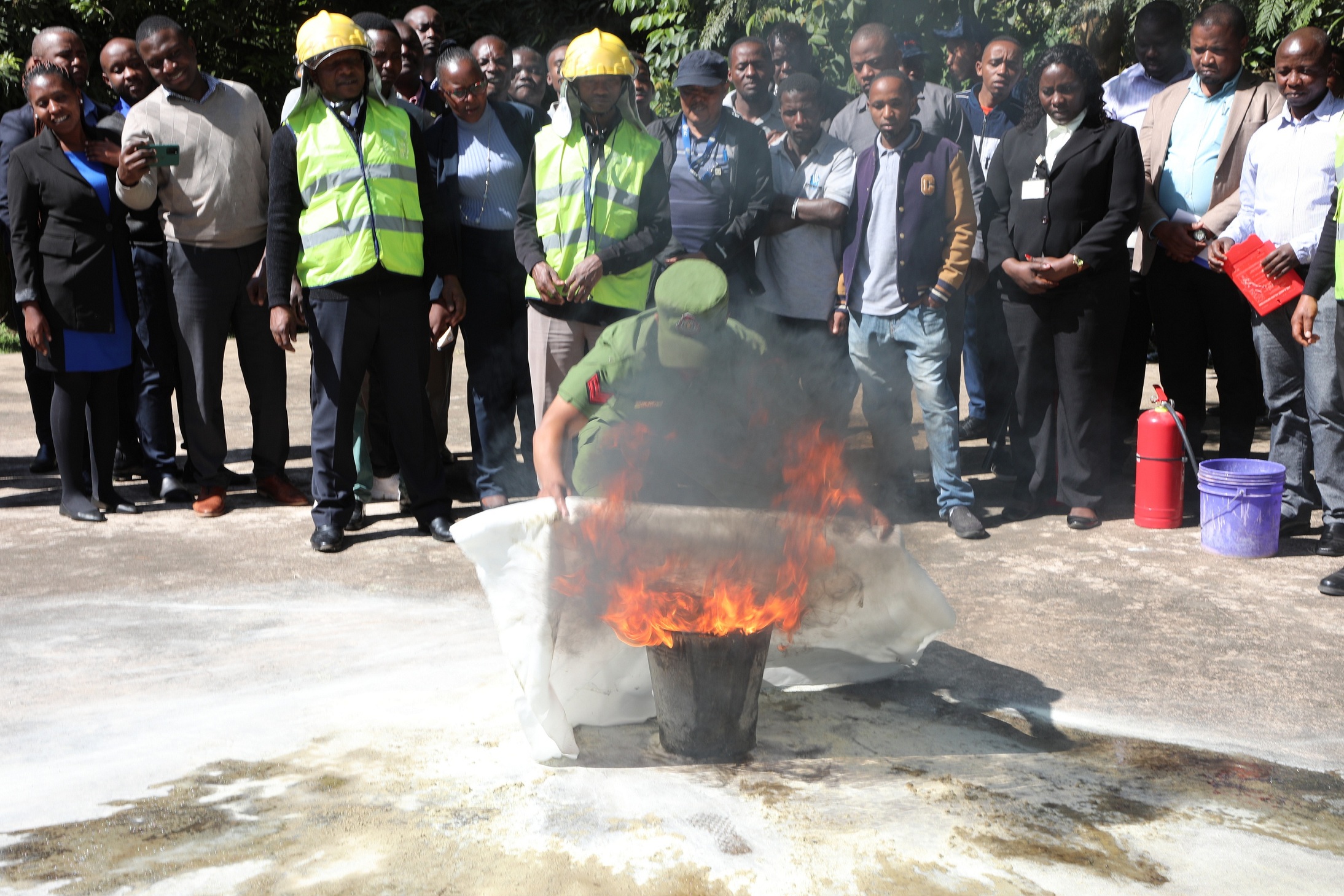 EAC Staff undergo training exercise in Fire Safety
East African Community Headquarters, Arusha, Tanzania, 22nd June, 2022: The East African Community on Tuesday mounted a daylong fire safety training exercise for the staff of its three Organs based its headquarters in Arusha, Tanzania.
The EAC held the fire safety training exercise in collaboration with the Office of the Regional Commander for Fire and Rescue Force, Arusha region.
The main objective of the exercise was for employees to gain insight on Fire Safety, Prevention and Control Measures in the workplace environment. The Principal Human Resource Officer called the meeting to order highlighting the need for participation in the exercise and remarked the fire and rescue team for prioritizing the East Africa Community in their tour of work organizations.
The Fire and Rescue Force Team Leader, Corporal Musa Gati, led the training with an in-depth presentation on the types of fire, the causes and the ways to combat the damage caused by fire to avoid huge losses of property.
Corporal Gati and his team also sensitized the participants on the emergency hotlines to use in case of any fire incidents and the need to put your own and other people's safety first when countering fire incidents.
The training concluded with a practical session where fire was ignited and smothered using different forms, namely: dry powder, carbon dioxide, foam and water to show the effectiveness and intensity of each.
In a report done by the one of the EAC Partner States, Republic of Kenya in the past year, the Ministry of Health recorded a surge in the number of burn victims in the country with a significant number of the incidents occurring in informal settlements.
Incidences reported in 2020 exceeded the 200,000 annual average with the Health ministry having documented 213,770 burn incidents compared to 73,292 in 2019 according to Burns Awareness Statistical Data held by Government of Kenya.

For more information, please contact:
Simon Peter Owaka
Senior Public Relations Officer
Corporate Communications and Public Affairs Department
EAC Secretariat
Arusha, Tanzania
Tel: +255 768 552087
Email: sowaka [at] eachq.org
About the East African Community Secretariat:
The East African Community (EAC) is a regional intergovernmental organisation of six Partner States, comprising Burundi, Kenya, Rwanda, South Sudan, Tanzania and Uganda, with its headquarters in Arusha, Tanzania.
The EAC Secretariat is ISO 9001: 2015 Certified