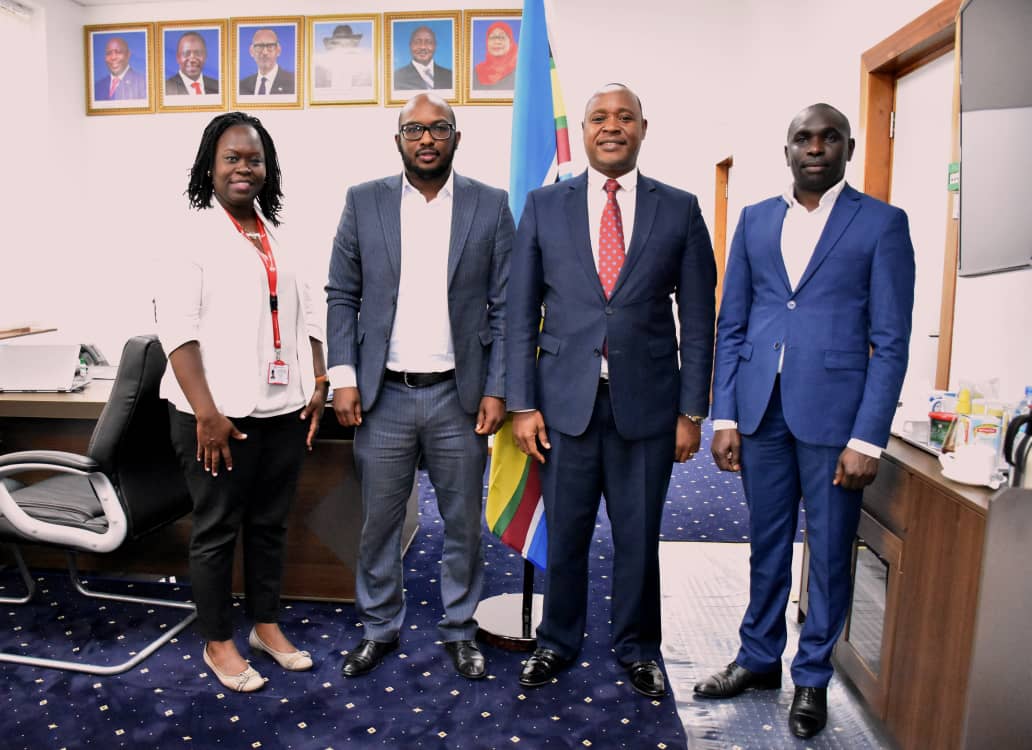 Horn of African Youth Network delegation pays a courtesy call on EAC Secretary General
East African Community Headquarters, Arusha, Tanzania, 15th July, 2021: A delegation from the Horn of Africa Youth Network (HoAYN) led by its Executive Director, Mr. David Momanyi, today paid a courtesy call on EAC Secretary General, Hon. (Dr.) Peter Mathuki, at the EAC Headquarters in Arusha, Tanzania. Accompanying the HoAYN Executive Director was Mr. Sankale Ole Keis; Chairman of the HoAYN and Ms. Agnes Airo, Regional Youth Advisor-Save the Children.
Receiving the delegation, Dr. Mathuki hailed HoAYN for its efforts in fostering sustainable, equitable and youth-led development in East and the Horn of Africa region.
Dr. Mathuki underscored the need to provide a platform for regional organizations such as EAC, the private sector and other non-state actors for purposes of promoting inclusivity and democratic governance for the welfare of the youth.
The Secretary General called for the establishment of a children's sensitization platform on matters regional integration, where they can be accorded a participatory role as ambassadors at the primary school level such as EAC children clubs and an EAC model children's parliament in the long run.
Hon. Mathuki hailed Save the Children for its continued and generous support for initiatives focused aimed at safeguarding the rights, welfare and protection of children within the EAC region towards helping them realize their full potential.
On his part, Mr. David Momanyi thanked the EAC Secretary General for availing time to meet the delegation and congratulated him on his appointment. He stated that "the mission of HoAYN is to bridge youth and the regional mechanisms system in order to ensure that their right to meaningful participation is realized through engaging children and youth entities in formal and informal arrangements in the design, implementation, monitoring, follow-up and review of sustainable development policies at all levels in four areas: Policy & Advocacy, Capacity Building, Youth Action and Knowledge."
He further added that HoAYN continues to welcome collaboration and partnerships with EAC Member States, civil society, private sector, academia and youth aimed at creating opportunities for the empowerment youth, girls and young women, to be agents of their own change in the communities building on existing coping mechanisms. This, he said, "is essential and fundamental to the success of the East African regional integration agenda''
The Save the Children Youth Advisor; Ms. Agnes Airo, said that they are ready to support the EAC in the establishment of National Youth Councils in the remaining Partner States, through the National Horn of Africa Networks, and in the finalization of the EAC Youth Policy which is still in the offing.
The EAC Youth Policy was developed to guide the Community on the planning, implementation, monitoring and evaluation of programmes to address youth issues in the region while assuring sustainable social, economic and political development.
The policy prescribes strategic priority areas and actions to guide the implementation and address youth challenges. It also articulates the need for harmonising definitions of the youth, related legislation and programmes carried out across the region. So far, EAC's avenues for youth engagement currently include youth debates/public meetings, sector meetings and direct engagement, youth learning exchange programmes, the Annual EAC university students' debate, EAC youth clubs and EAC integration clubs.
The Secretary General reassured the delegation of his full support and commitment in pushing forward the youth and children's policy initiatives in order to secure their future leadership role to sustain regional integration and economic development in Eastern Africa.
Notes to Editors:
The Horn of Africa Youth Network (HoAYN) is a regional network of youth serving organizations that is working to foster sustainable, equitable and youth-led development in the Horn of Africa Region. HoAYN is currently implementing a regional youth program aimed at expanding civic space in the Horn of Africa region through evidence-based advocacy.
The network is comprised of representatives from 8 countries: Ethiopia, Kenya, Somalia, South Sudan, Sudan, Uganda, Eritrea and Djibouti. In this regard, the HoAYN undertakes lobbying and advocacy activities to its member organizations in areas of youth & migration, peace & security, economic empowerment, and elimination of violence against women & girls, in collaboration with line ministries responsible for IGAD affairs, organs of the African Union Commission and the East African Community Secretariat.
For more information, please contact:
Simon Peter Owaka
Senior Public Relations Officer
Corporate Communications and Public Affairs Department
EAC Secretariat
Arusha, Tanzania
Tel: +255 768 552087
Email: sowaka [at] eachq.org
About the East African Community Secretariat:
The East African Community (EAC) is a regional intergovernmental organisation of six Partner States, comprising Burundi, Kenya, Rwanda, South Sudan, Tanzania and Uganda, with its headquarters in Arusha, Tanzania.
The EAC Secretariat is ISO 9001: 2015 Certified