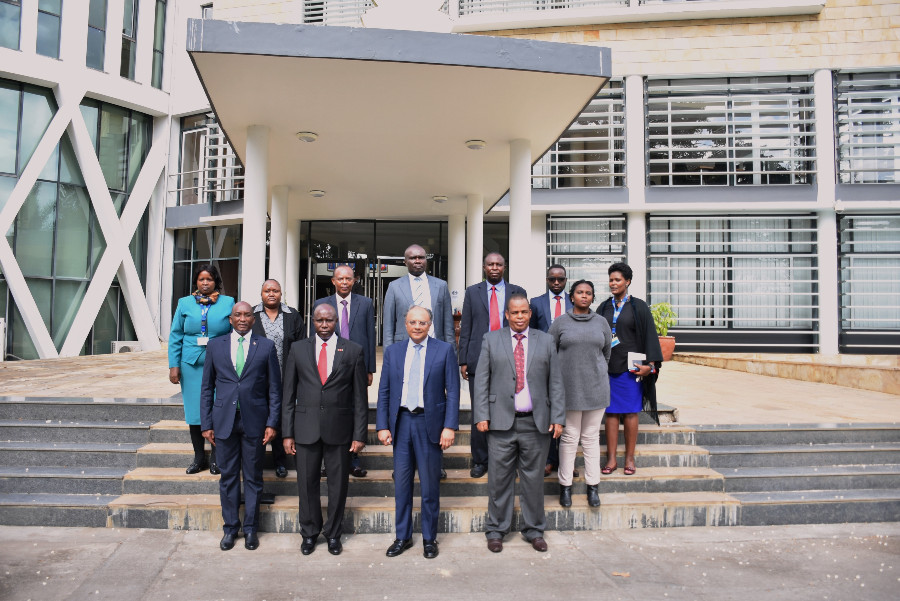 Chairperson of the EAC Co-ordination Committee pays courtesy call on the EACJ Judge President
East African Court of Justice, Arusha, Tanzania, 30th June, 2021: The Chairperson of the EAC Coordination Committee, Dr. Kevit Desai, who is also the Principal Secretary in the Ministry of East African Community, Kenya paid a courtesy call on the Judge President of the East African Court of Justice, Justice Nestor Kayobera, to understand the operations of the court and how it could be assisted to execute its mandate more effectively.
Justice Kayobera hailed the PS and his delegation for the historic visit and informed them that it is a good sign of strengthening the relationship of the court with the other Organs of the Community.
Justice Kayobera urged the PS to support the court on the issue of permanency of tenure for the Judges saying cases had increased tremendously causing a backlog and that there was need to deliver justice as deserved to the people of East Africa. He also urged the PS to support the court by strengthening its independence through operationalizing the financial autonomy of the court to improve its performance.
The Judge President also emphasised the financial challenges facing by the court and urged the PS to ensure that the budget of the court was increased to enable it carry out its operations, adding that the training of judges should not be left to development partners.
EAC Principal Judge Justice Yohane Masara informed the PS that the Court was trying to work within its means and that the cases pending before it were more than the sessions held. The court holds quarterly sessions for a month every quarter. He also pointed out the need to have the court holdings hearings in the Partner States to enhance its visibility.
On his part, PS Desai said that he had noted all the issues raised as critical singling out institutional capacity as urgent. He suggested strong partnership between the Council of Ministers and the court to ensure resolution of challenges affecting the court's operations.
For more information please contact:
Yufnalis Okubo
Registrar
East African Court of Justice
Arusha, Tanzania
Tel: 255-27-2162149
Email: This email address is being protected from spambots. You need JavaScript enabled to view it.
About the East African Court of Justice
The East African Court of Justice (EACJ or 'the Court'), is one of the organs of the East African Community established under Article 9 of the Treaty for the Establishment of the East African Community. Established in November 2001, the Court's major responsibility is to ensure the adherence to law in the interpretation and application of and compliance with the EAC Treaty.
Arusha is the temporary seat of the Court until the Summit determines its permanent seat. The Court's sub-registries are located in the respective National Courts in the Partner States.
Tags: EACJ