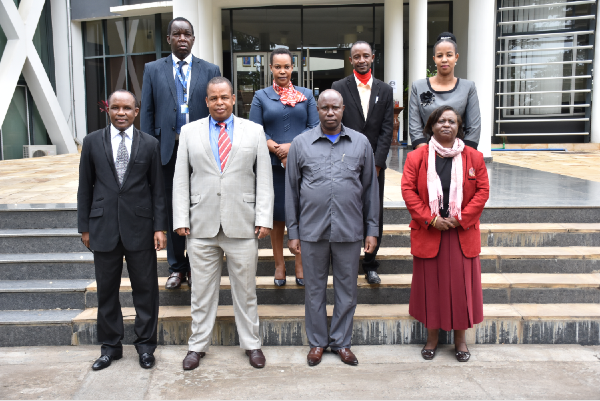 EACJ Offers an Office to East African Magistrates' and Judges' Association in Arusha
East African Court of Justice 15th June, 2021: The President of the Court Hon Justice Nestor Kayobera accompanied by Principal Judge Justice Yohane Masara and the Registrar of the Court welcomed the President of East African Magistrates' and Judges' Association (EAMJA), Lady Justice Sophia Wambura with her delegation and handed over an office offered by the Court.
This was done as a way of supporting and strengthening the collaboration of the Court and national judiciaries through EAMJA. "Me offering an office to EAMJA is not a favor but an obligation" said Justice Kayobera
The President of the Court assured full support in facilitating the office and continue working together contributing towards the achievement of the EACJ mandate of the Court. His Lordship commended the National judiciaries for hosting the Sub-registries of the Court and therefore EACJ to host EAMJA office is a great opportunity for the Court and a good practice of cooperation among all Stakeholders.
Registrar of the Court, Yufnalis Okubo informed the meeting that the Judges of the Court have been attending and participating in all EAMJA annual conferences where a number of EACJ issues are discusses and this office at the Court will encourage continued support for one another in a number of activities.
On her part the President of EAMJA Lady Justice Sophia Wambura thanked the Judge President and the entire Court for the support and good hospitality demonstrated to accommodate them which will no doubt impact on the smooth operations of EAMJA. The office has been housed at the High Court Tanzania Arusha which was not strategically located to all East Africans.
Lady Justice Wambura also requested the Court to follow up on their request to East African Community as an observer which will enable EAMJA members to properly understand and familiarize with the issues of EAC Integration process. Madam President was accompanied by Justice Gwae Atam Judge in- charge Arusha and other Members of EAMJA.
For more information please contact:
Yufnalis Okubo
Registrar
East African Court of Justice
Arusha, Tanzania
Tel: 255-27-2162149
Email: This email address is being protected from spambots. You need JavaScript enabled to view it.
About the East African Court of Justice
The East African Court of Justice (EACJ or 'the Court'), is one of the organs of the East African Community established under Article 9 of the Treaty for the Establishment of the East African Community. Established in November 2001, the Court's major responsibility is to ensure the adherence to law in the interpretation and application of and compliance with the EAC Treaty.
Arusha is the temporary seat of the Court until the Summit determines its permanent seat. The Court's sub-registries are located in the respective National Courts in the Partner States.
Tags: EACJ