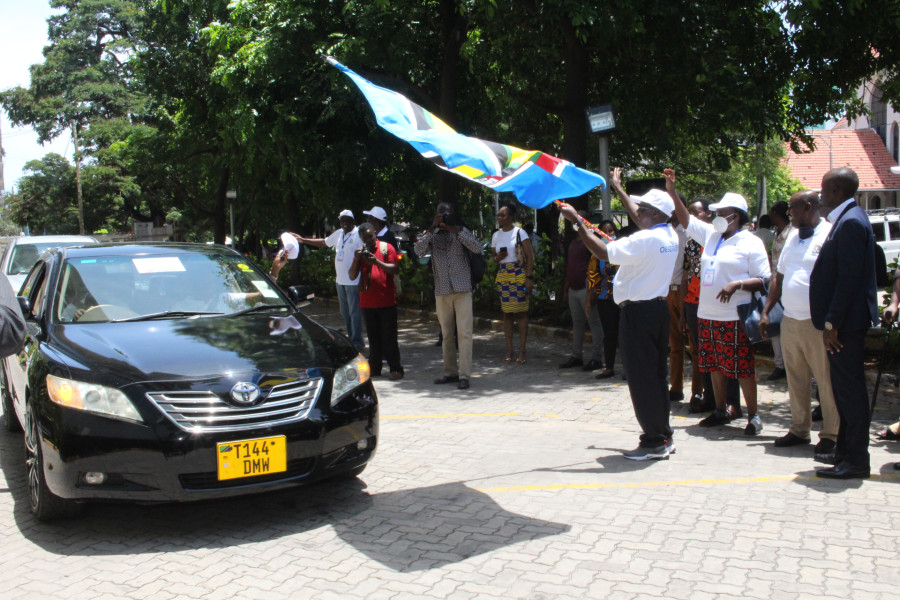 EAC Election Observer Mission Flags Off to the 28th October General Elections in the United Republic of Tanzania
East African Community , Dar es Salaam, Tanzania, 27th October, 2020: The former President of Burundi and Head of the Mission (HoM), H.E. Sylvester Ntibantunganya yesterday flagged off 59 members of the East African Community Election Observer Mission to various regions of the country ready for the 28th October, 2020 General Elections.
Addressing the Observers and the Media, at the flag off event in Dar es Salaam, Tanzania, the HoM commended the people of Tanzania for so far conducting themselves with maturity in one of the most vibrant election campaigns in the country's history.
"I trust that this level of dignity and peace will be upheld throughout the campaigning period, on Election Day and thereafter," stated H.E Ntibantunganya.
The former president commended the EAC Election Observers for the dedication and commitment that they had displayed by agreeing to be part of the mission to observe the General Elections in Tanzania.
His Excellency Ntibantunganya disclosed to the media that the Mission will be deployed in the following locations: Dar es Salaam, Tanga, Unguja, Pemba, Lindi / Mtwara, Dodoma, Mbeya, Kigoma, Singida, Kilimanjaro, Morogoro and Mwanza. He said the Observers are expected to meet election officials, the populace, candidates and other stakeholders up to and beyond Election Day.
The Head of Mission urged the Tanzanian people, candidates and political parties involved in the elections as well as the media and other actors to demonstrate behaviors that promote peace, security and stability.
The EAC Elections Observer Mission is expected to release a Preliminary Report on 30th October 2020.
Meanwhile, the Head of the Mission has continued to engage with the various stakeholders during this period. Among others, he has met and held discussions with the former President of United Republic of Tanzania, H.E Jakaya Mrisho Kikwete, CCM National Executive Committee Secretary on Political Affairs and International Relations, Col Ngemela Lubinga and Secretary General of Chadema, Mr. John Mnyika.
For more information please contact:

Simon Peter Owaka
Senior Public Relations Officer
Corporate Communications and Public Affairs Department
EAC Secretariat
Arusha, Tanzania
Tel: +255 768 552087
Email: sowaka [at] eachq.org
About the East African Community Secretariat:
The East African Community (EAC) is a regional intergovernmental organisation of six Partner States, comprising Burundi, Kenya, Rwanda, South Sudan, Tanzania and Uganda, with its headquarters in Arusha, Tanzania.
Tags: #Tanzania2020, EOM-TZ