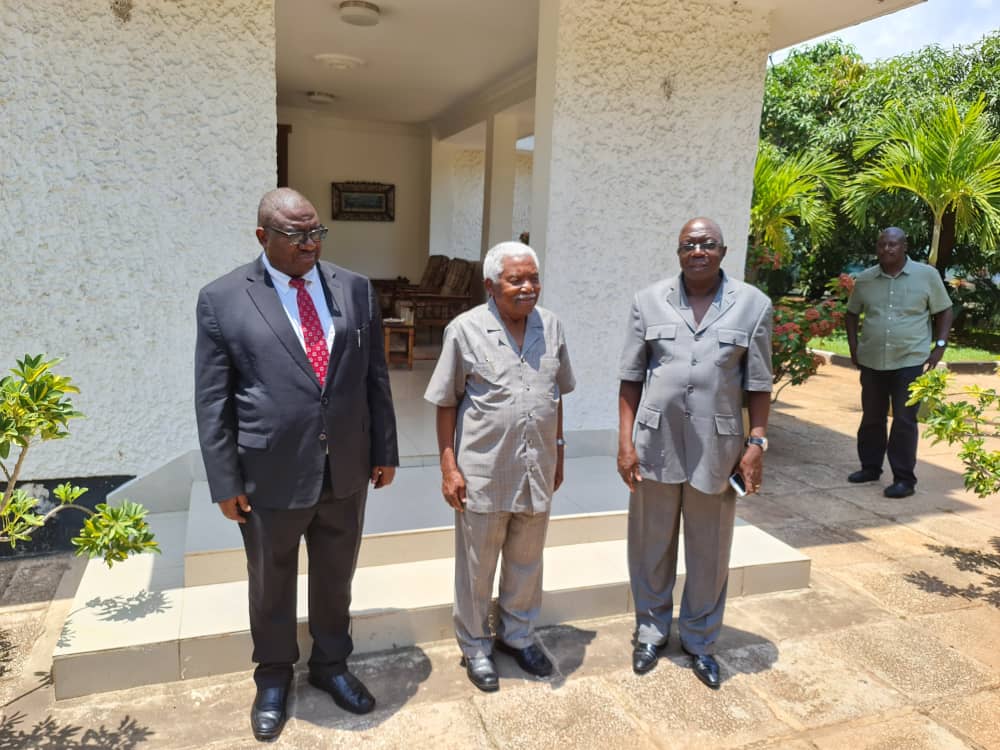 Head of EAC Observer Mission meets Former President Mwinyi
East African Community Headquarters, Arusha, Tanzania, 24th October, 2020: The former President of the Republic of Burundi and Head of the East African Community Election Observer Mission (EOM) to the General Elections in the United Republic of Tanzania, H.E Sylvestre Ntibantunganya, paid a courtesy call to the former President of the United Republic of Tanzania, H.E Ali Hassan Mwinyi at his Msasani home in Dar es Salaam, Tanzania.
Briefing the former Tanzania Head of State, H.E Ntibantunganya said the EAC EOM team was in Tanzania to assist EAC member states in an effort to conduct free and fair Elections by providing positive and constructive feedback that would help to improve similar processes in the region. President Ntibantunganya pledged that the team would conduct its work in an impartial and objective manner.
He informed President Mwinyi that the Mission has observers drawn from different but complementary disciplines that include members of the East African Legislative Assembly, Ministries responsible for EAC Affairs from the EAC Partner States, National Electoral Commissions, and EAC Youth Ambassadors.
He disclosed that the Mission shall prepare a Report that will be submitted to, among others, the National Electoral Commission of Tanzania, through the EAC Council of Ministers for consideration and implementation.
In his remarks, former President of the United Republic of Tanzania, H.E Ali Hassan Mwinyi said the core role of Observers is to observe elections and ensure that they meet internationally recognized standards, which attribute electoral process to be free, fair, transparent, credible and peaceful.
"I have faith and trust that you will live up to the expectation of East Africans in this democratization process and that the outcome we will collectively deliver and serve to strengthen representation in the region."
-ENDS-
For more information please contact:

Simon Peter Owaka
Senior Public Relations Officer
Corporate Communications and Public Affairs Department
EAC Secretariat
Arusha, Tanzania
Tel: +255 768 552087
Email: sowaka [at] eachq.org
About the East African Community Secretariat:
The East African Community (EAC) is a regional intergovernmental organisation of six Partner States, comprising Burundi, Kenya, Rwanda, South Sudan, Tanzania and Uganda, with its headquarters in Arusha, Tanzania.
Tags: EOM-TZ