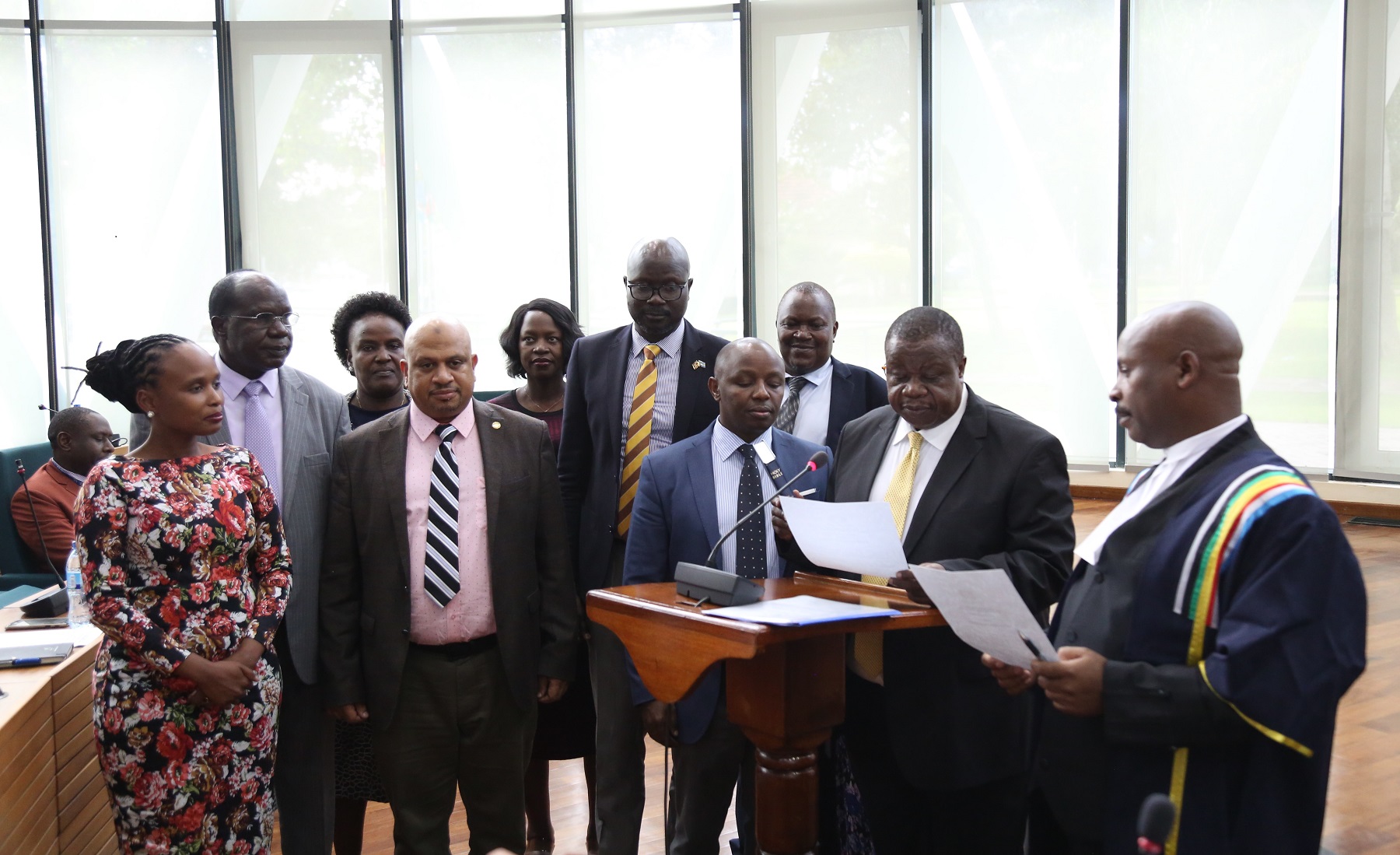 EALA swears in Uganda's new EAC Minister as Ex-Officio Member
…Hon Maj. Gen (Rtd) Otafiire pledges support for the integration process
East African Legislative Assembly, Arusha, Tanzania: February 25th, 2020: Uganda's Minister for East African Community, Hon. Major General (Rtd) Kahinda Otafiire, late yesterday took Oath of Allegiance as an Ex-Officio Member of the Assembly.
Hon Otafiire was sworn in by the Clerk to the Assembly at a brief ceremony witnessed by the Speaker and Members of EALA in line with the Rule 5 of the Rules and Procedures of the Assembly. The Rule says in part that: "No Member can sit or participate in the proceedings of the House until the Oath or Affirmation of Allegiance to the Treaty is taken".
Rule 5(5) specifically states that "when a Member first attends to take his or her seat other than at the first Sitting of a new House, he or she shall be brought to the table by two Members and presented by them to the Speaker who shall then administer the Oath or Affirmation of Allegiance".
Hon Maj Gen (Rtd) Otafiire was ushered in to the House by EALA Members, Hon George Odongo and Hon Simon Mbugua. Hon Kasamba Mathias, Hon Susan Nakawuki, Hon Dr Abdulla Makame, Hon Thomas Dut, Hon Fancy Nkuhi and Hon Rose Akol were also in tow.
Hon Leontine Nzeyimana, who was elected to preside over the House in absence of the substantive EALA Speaker, Rt Hon Ngoga Karoli Martin, congratulated Hon Otafiire upon his swearing in – as he assumes his ex-officio role in the regional August House.
Hon Gen Otafiire was appointed to the Ministry by H.E. Yoweri Kaguta Museveni, in December 2019, replacing 2nd Deputy Prime Minister, Rt Hon Dr Ali Kirunda Kivenjija who moved to Office of the President. The newly appointed Minister has held several government portfolios including the ministerial docket at the Constitutional and Legal Affairs Ministry. Maj Gen (Rtd) Otafiire who is a former Member of Parliament for Ruhinda County, is deputized in the EAC ministry by Hon Wandera Julius Maganda.
In 2001, he was appointed Minister of State for Regional Co-operation, a position he held until 2003. In that year, he was appointed Minister of Land, Water and the Environment where he served in the capacity for 3 years. Hon Otafiire has also served as Minister for Local Government, prior to becoming Minister of Trade and Industry in February 2009. He served in that capacity until he was appointed Uganda's Justice Minister in May 2011.
Prior to that, the EAC Minister served as a Minister of State for Internal Affairs (1986-88). He also served as the Director General of the External Security Organization (1992-1994), before becoming a delegate to the Constituent Assembly, that drafted the 1995 Constitution of the Republic of Uganda.
Hon Gen Otafire, who is a retired military officer (Major General) and politician, holds a Bachelor of Social Science from the University of Makerere University and a certificate in French language.
In his maiden statement on the floor, Hon Otafire assured the House of his commitment to ensure integration is realized. "I promise to work hard to strengthen EAC integration to ensure the dreams of our forefathers become a reality", Hon Maj Gen Otafiire stated.
Chairperson of the EALA Chapter, Republic of Uganda, Hon George Odongo, hailed Hon Otafiire as an experienced and visionary leader. "This House is lucky at this point in time to have a person of Hon Otafiire's caliber, a passionate leader and Pan Africanist who does not believe in borders", he said.
- ENDS -
For more information, please contact:
Bobi Odiko
Senior Public Relations Officer
East African Legislative Assembly
Arusha, Tanzania
Tel: +255-27-2508240
Fax: +255-27-2503103
Cell: +255-787-870945, +254-733-718036
Email: BOdiko [at] eachq.org
Web: www.eala.org
About the East African Legislative Assembly:
The East African Legislative Assembly is the Legislative Organ of the East African Community. Its Membership consists of a total of 62, of whom 54 are elected Members (9 from each Partner State) and eight ex-officio members (the Ministers responsible for EAC Affairs from the Partner States, the Secretary General of the Community and the Counsel to the Community).

The East African Legislative Assembly has legislative functions as well as oversight of all East African Community matters. The enactment of legislation of the Community is put in effect by means of Bills passed by the Assembly and assented to by the Heads of State, and every Bill that has been duly passed and assented to become an Act of the Community and takes precedent over similar legislations in the Partner States. EALA has to date passed more than 80 pieces of legislation.
Tags: EALA