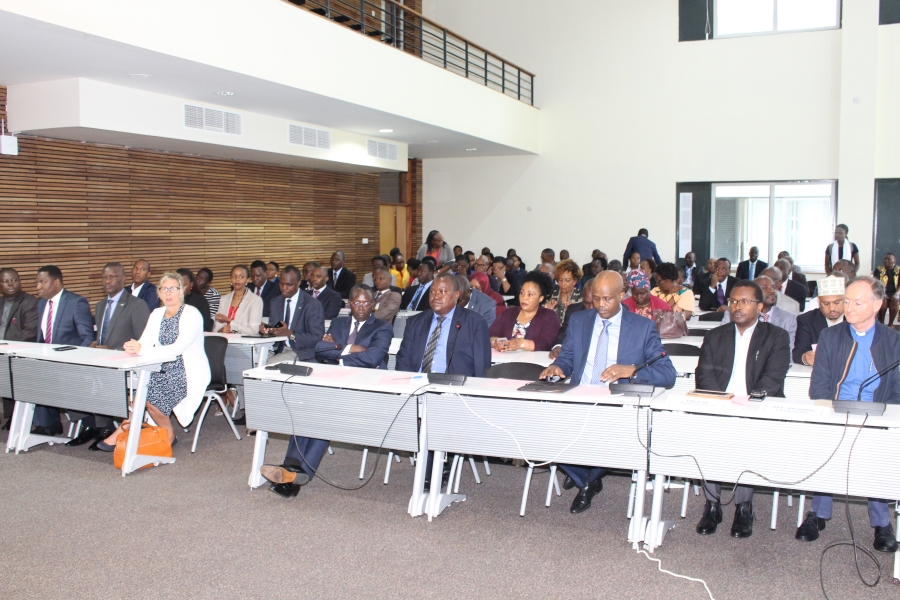 EAC holds Prayer Breakfast as part of 20 years celebrations
East African Community Headquarters, Arusha, Tanzania, 26th November, 2019: The East African Community(EAC) prayer breakfast organized as part of the activities to commemorate the Community's two decades of existence was held today at the EAC headquarters in Arusha, Tanzania.
The well-attended prayer breakfast themed; EAC@20: Deepening Integration, Widening Cooperation was attended by EAC heads of Organs and Institutions, Permanent/ Principal Secretaries from Partner States, Heads of religious groups in Arusha, Members of East African Legislative Assembly, staff of the community as well as other stakeholders of EAC.
Addressing the congregation, the EAC Secretary General Amb Liberat Mfumukeko said "I am pleased that we can have this multi-denominational Prayer Breakfast as one of the first activities in celebrating 20 years of EAC integration. What a beautiful way to usher us into the next decade" As believers, we must thank God for seeing us through. We are grateful to the Almighty God for divine providence over the last 20 years, added Amb Mfumukeko.
He urged the congregation in their respective capacities to ensure that they serve the community to the best of their abilities, and in a manner that is pleasing to Almighty God, the giver of life. May HE also give us the courage to form a strong bond of sisterhood and brotherhood whereby we can look each other in the eye and correct each other candidly with love, stated Secretary General.
He challenged the congregation that as they commemorate the positives of 20 years of EAC integration to also reflect on the challenge as the community intercede for continued providence in the years to come.
The overall objective of the EAC 20th Anniversary celebrations is to commemorate the achievements of the Community over the past 20 years. The celebrations are a joint undertaking by all EAC Organs, Institutions and Partner States' Ministries responsible for EAC Affairs.
The celebrations are being organized at two levels, the regional and the national levels and will be on symbolically on for the next 12 months.The activities and celebrations will climax on the EAC Day on 30th November, 2019 and will be held at the EAC headquarters in Arusha, Tanzania.
- ENDS -
For more information, please contact:
Simon Peter Owaka
Senior Public Relations Officer
Corporate Communications and Public Affairs Department
EAC Secretariat
Arusha, Tanzania
Tel: +255 768 552087
Email: sowaka [at] eachq.org
About the East African Community Secretariat:
The East African Community (EAC) is a regional intergovernmental organisation of six Partner States, comprising Burundi, Kenya, Rwanda, South Sudan, Tanzania and Uganda, with its headquarters in Arusha, Tanzania.
The EAC Secretariat is ISO 9001: 2008 Certified
Tags: EAC@20