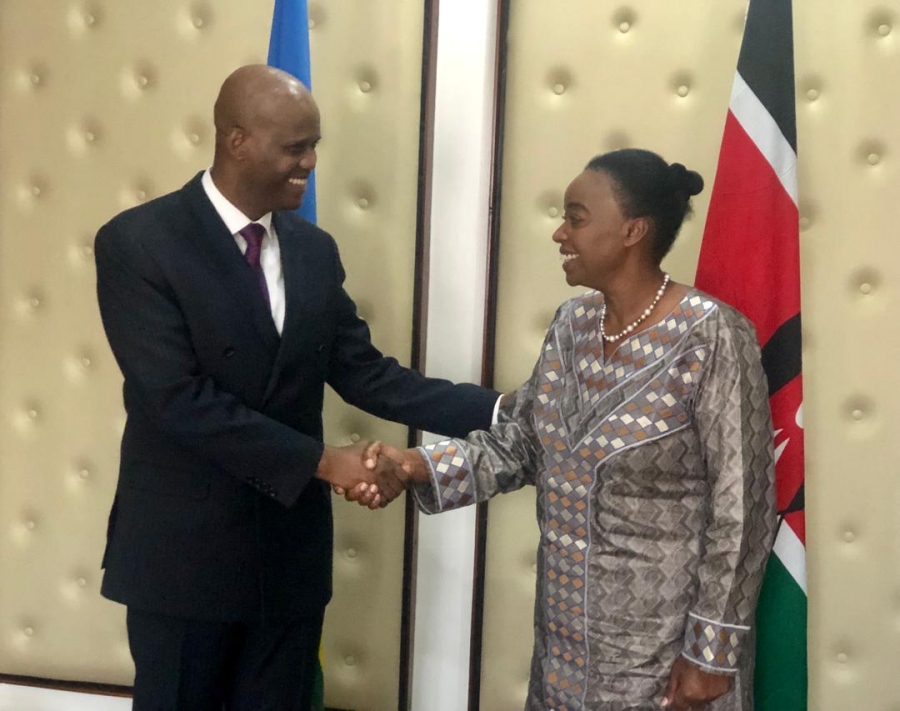 EAC Secretary General pays courtesy call on Hon. Monica Juma, Cabinet Secretary of Foreign Affairs, Kenya
East African Community Headquarters, Arusha, Tanzania, 15th September, 2019: The EAC Secretary General, Amb Liberat Mfumukeko paid a courtesy call on the Cabinet Secretary for Foreign Affairs, Kenya, Hon. Monica Juma on 13th September, 2019.
During their discussion Amb. Mfumukeko briefed the Cabinet Secretary of the steady progress on the implementation of the key Protocols i.e. the Customs Union, Common Market, Monetary Union and Political Federation. He outlined the key challenges which the Partner States are committed to resolve.
On her part, the Cabinet Secretary reiterated her support and Kenyans support to the integration process. She noted that the region cannot be stronger beyond EAC unless we build EAC. Amb Monica Juma emphasized on the strategic role that the EAC Secretariat is expected to play in helping EAC values and vision.
" EAC Secretariat must encourage Partner States not to fail themselves especially in trade but focus on complementarity and value chain'' The Secretariat must find a way of persuading Partner States to think as one, added Cabinet Secretary.
The Cabinet Secretary remarked that there is need for a mental shift about integration and identity ,noted that this can be facilitated by having a comprehensive and continuous sensitization including EAC programmes on TVs and radios in the Partner States. She challenged the Secretariat to be the vision carrier for all the Partner States where there will be a shared vision, purpose and destiny.
The Cabinet Secretary commended the Secretariat for the projects initiated by the EAC on infrastructure, health and agriculture and that is in line with Kenya's priorities in the current administration.
She requested Secretary General to amplify the position of the EAC on the Candidature of Kenya in the United Nations Security Council.
The Secretary General was accompanied by Deputy Secretary General in charge of Planning and Infrastructure Eng. Steven Mlote.
- ENDS -
For more information, please contact:
Simon Peter Owaka
Senior Public Relations Officer
Corporate Communications and Public Affairs Department
EAC Secretariat
Arusha, Tanzania
Tel: +255 768 552087
Email: sowaka [at] eachq.org
About the East African Community Secretariat:
The East African Community (EAC) is a regional intergovernmental organisation of six Partner States, comprising Burundi, Kenya, Rwanda, South Sudna, Tanzania and Uganda, with its headquarters in Arusha, Tanzania.
The EAC Secretariat is ISO 9001: 2008 Certified