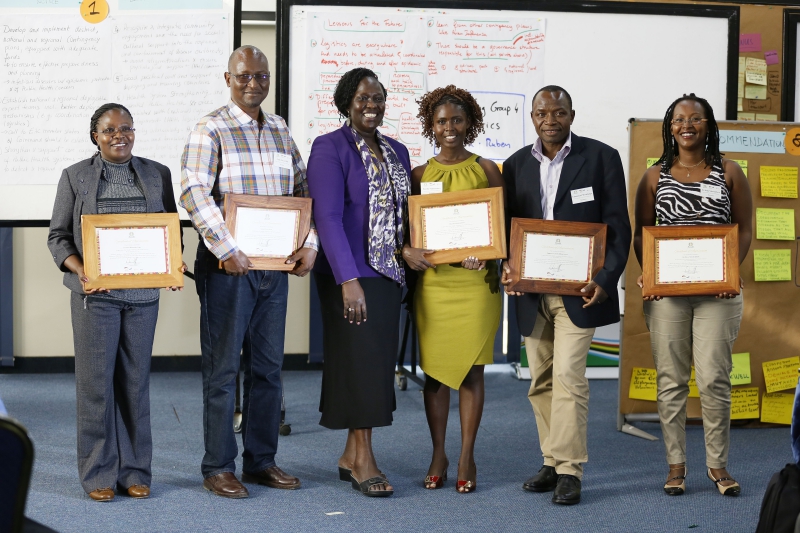 Lessons for the Future – What East African Experts learned from fighting the Ebola Epidemic in West Africa
'Diseases don't have passports – they can cross borders', the Hon. Jesca Eriyo, Deputy Secretary General Finance and Administration of the East African Community (EAC) Secretariat, reminded the participants of a three-day regional conference on 'Lessons for the Future – What East African Experts learned from fighting the Ebola epidemic in West Africa'. The conference was the first of its kind that brought together 50 of the 500 East African doctors, nurses, epidemiologists and many other health specialists who risked their lives by volunteering to be deployed to West Africa to fight the Ebola epidemic between 2014 and 2016. According to the World Health Organization, the epidemic killed over 11,000 people and more than 30,000 were infected, and there were real fears that the disease could spread to East Africa and beyond.
The conference, with participation from the African Union, from Regional Economic Communities and Regional Health and Development Organizations, from the WHO AFRO office, the UN and other international development partners as well as representatives from Doctors without Borders and others bodies, was held from 6th to 8th November at the International Centre of Insect Physiology and Ecology (icipe) Duduville Campus in Nairobi, Kenya.
The East African Community (EAC) Secretariat decided to host the conference so that the invaluable experiences and knowledge of these East African health experts could be heard, properly documented, and used to inform lessons for the future for preventing, combating and mitigating future outbreaks of infectious diseases.
Over the three days, participants shared their first-hand experiences, discussed the lessons learned and came up with constructive recommendations for future responses. 'There are some things you can't learn in a classroom – you only learn from experience,' said Dr Monica Musenero, WHO's Field coordinator in Bombali, Sierra Leone and one of the 500 experts from East Africa who volunteered to be deployed to West Africa to help during the Ebola crisis of 2014-16. 'Never in my life did I imagine such an epidemic. It dwarfed everything that had gone before… When I arrived in Freetown, Sierra Leone I was unprepared for the horror of what I encountered.' She compared the experience of fighting Ebola to being at the frontline of a war – 'except you can't see the enemy – it's everywhere.'
Participants discussed the lessons learned from this 'frontline' experience and came up with many constructive lessons for improving future responses, including:
Political will is very important for timely declaration and management of epidemics.
Regional and national contingency plans need to be developed and implemented, with adequate resources to prevent and react to future epidemics.
There is a need to establish national and regional teams of experts that can be rapidly deployed in an emergency.
Community engagement is crucial if disease outbreaks are to be effectively contained.
Health systems need to be strengthened and work effectively with other sectors and areas of expertise to ensure a holistic and effective response.
The Hon. Jesca Eriyo said that the lessons learned from the deployed experts' first-hand experiences would help to strengthen the continents' future response to outbreaks, and their recommendations would inform the East African Community's commitment to strengthening health systems and responses, and be presented to the forthcoming East African Head of States summit. She particularly welcomed the participants' enthusiasm for establishing a pool of experienced experts for rapid deployment in the event of a future emergency.
Dr Zabulon Yeti, head of the WHO AFRO Office in Brazzaville, DRC, welcomed the meeting as an opportunity for deployed exerts to come together and be 'debriefed' and talk freely about their experiences. He said he would take five key messages away from the meeting:
Nobody can tackle infectious diseases like Ebola alone. It needs to be a team effort.
Working together leads to better coordination and synergistic actions.
Better local action and early reporting is crucial: the Ebola outbreak in West Africa started with just one case but quickly crossed boundaries and continents.
Ebola is a disease that crossed from animals to humans, so animal and human health and the effects of the environment and climate change are all closely related and need a multi-sectoral 'One Health' response.
The key lesson is that containing future outbreaks will need community engagement, and that entails better understanding of culture and traditions and more effective risk communication. Dr Yoti said that some community responders working in West Africa had been stoned and threatened 'because we did not understand the community.'
Dr Babatunde Jegede from the Nigerian Federal Ministry of Health in Lagos spoke on behalf of the West African experts who fought Ebola in the affected countries. During a press briefing he stressed the importance of continuous exchange and close cooperation between and among the African regions for better future preparedness. He and his colleagues present at the conference contributed their experiences from fighting the epidemic and said they would take home the lessons learned from their East African sisters and brothers.
Jesca Eriyo concluded the meeting by thanking all formerly deployed East African experts present who had risked their own lives in the fight against Ebola: 'From deep down in my heart I thank you and applaud your sacrifice … you will always be celebrated as heroes.'
The conference was organised by the EAC Secretariat in collaboration with the Federal Government of Germany through the GIZ coordinated 'Support to Pandemic Preparedness in the EAC Region' project and in cooperation with GIZ's Epidemic Preparedness Team (Schnell Einsetzbare Expertengruppe Gesundheit, SEEG) and the German Development Bank (Kreditanstalt für Wiederaufbau, KfW) supported 'EAC Regional Network of Reference Laboratories for Communicable Diseases'.
Contact: Othieno Richard Owora: EAC Secretariat
Video and audio interviews with health workers who worked in West Africa, and photos of the conference are available on request.
Download Report of the Conference
For further information:
Kenneth K. Byoona,
Risk and Crisis Communication,
Support to Pandemic Preparedness in the EAC Region, GIZ
Email: This email address is being protected from spambots. You need JavaScript enabled to view it.
Tel: +255 27 250 123