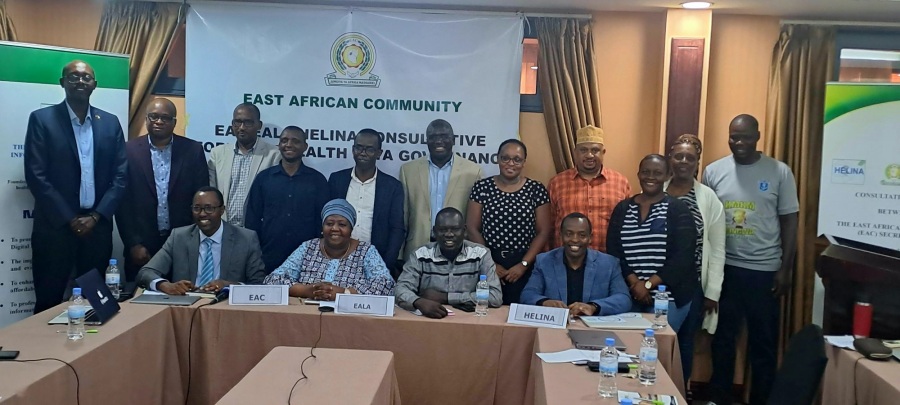 EAC set to develop Health Data Governance in foster digital transformation of the health sector in East Africa
East African Community Headquarters, Arusha, Tanzania, 20th November, 2023: The East African Community (EAC) Secretariat, the East African Legislative Assembly (EALA) and the Pan African Health Informatics Association (HELINA) have concluded two days of a Consultative Forum on Health Data Governance in Kigali, Republic of Rwanda with a commitment by all the three parties to foster stronger health data governance to drive digital transformation and innovations in the health sector in East Africa.
The two-day forum, aimed to sensitise EALA members on the importance of developing the EAC Regional Health Data Governance (HDG) framework and similar initiatives for the African Union with a view to building consensus through the African Common Position that is part of the Africa Centre for Disease Control's digital transformation flagship project on HDG.
Speaking during the opening session of the forum, Dr. Eric Nzeyimana, the EAC Principal Health Officer, said that the EAC is keen on developing the EAC Regional Data Government Framework in order to implement the directive of the 23rd Sectoral Council of Ministers of Health, which was held in February 2023, that directed the EAC Secretariat to develop the regional Data Governance Framework.
Dr. Nzeyimana said the process of developing the framework on Health Data Governance is already underway, adding that EALA has become the first EAC Organ to be consulted on the process.
"I assure you honourable Members that the fully-fledged EAC Health Data Governance Framework is expected to be in place within six months," said Dr. Nzeyimana.
Dr. Nzeyimana said in order to fully realize the benefits of digital transformation in the region, it is essential to establish robust and effective governance frameworks for the health data that is being shared.
"The Health Data Governance framework is key in managing risks, safeguarding individual rights, and so forth," he said.
Dr Nzeyimana informed the legislators that the EAC Health Data Governance Framework is expected to be approved by the forthcoming 24th EAC Sectoral Council of Ministers of Health that is expected to take place in early 2024.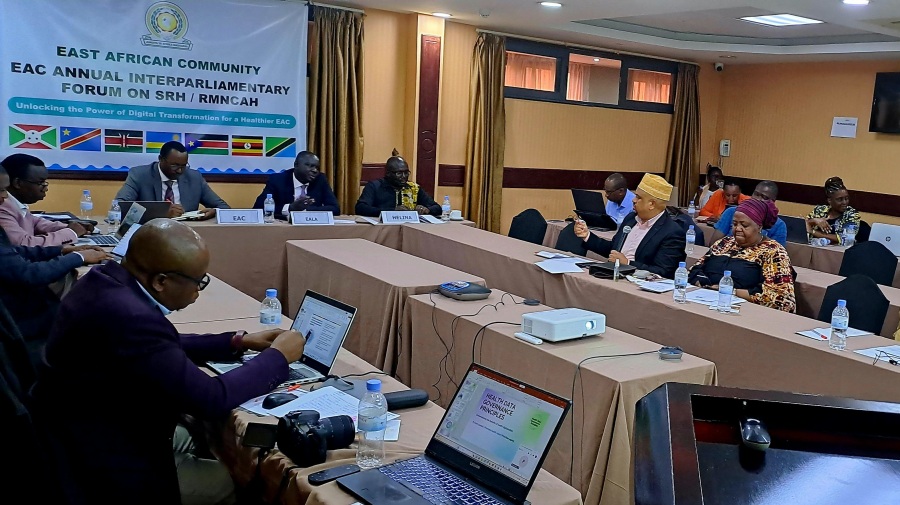 Dr. Nzeyimana thanked Swedish International Development Agency (SIDA)-funded Integrated Health Programme (EIHP) and the USAID-funded Local Health System Sustainability (LHSS) project for their financial support towards the development of the EAC Health Data Governance framework.
Dr. Nzeyimana hailed HELINA as EAC's newest strategic partner, adding that the two will continue collaborating to transform the health sector in the EAC region with digital technologies.
"To achieve this, we must, among other things, establish a Memorandum of Understanding and define areas of mutual cooperation in digital transformation among the two parties," said Dr. Nzeyimana.
On his part, the Chairperson of the EALA General Purpose Committee, Hon. Dr. Kennedy Mukulia, said that the Committee, through its legislative, oversight and representative mandate, has a crucial role in advancing the digital health agenda and strengthening health data governance in the EAC region.
"As EALA, we are committed to taking a leadership role in shaping the EAC's digital health future and ensuring that the benefits of digital health reach all citizens of the Community," said Dr. Mukulia.
Mr. Steven Wanyee, the president of HELINA, emphasised HELINA's determination through Transform Health in its commitment to realise Africa CDC's flagship Initiative on Health Data Governance in Africa.
Mr. Wanyee called upon Partner States' governments to strengthen their health data governance approaches, while also improving harmonisation across national borders to support cross-border data flows.
"I believe that by collaborating with EALA and the EAC Secretariat, HELINA can harness digitalization's potential to address challenges, create opportunities, and build a more sustainable and prosperous future for all Africans," said Mr. Wanyee.
He challenged EAC Partner States to harmonise regulations and build capacity for data governance and standards in general.
"These efforts will significantly contribute to the development of an African Common Position on the governance of health data," added the HELINA President.
On his part, Eng. Andrew Charles Kajeguka, EAC Secretariat's Senior e-Health and Informatics Officer, disclosed that plans are underway to get rid of vertical siloed applications that are financed by different donors and government programmes at regional and national levels.
"Fragmentation of digital health systems at EAC regional level will be resolved as the EAC Health department is planning to deploy an enterprise approach by developing the EAC Health Enterprise Architecture blueprint once the EAC Health Data Governance Framework is approved by the EAC Sectoral Council of Ministers of Health," said Eng. Kajeguka.
The Forum identified key strategic areas of engagement in health data governance by aligning with the globally accepted "health data governance principles", which seek to expedite digital transformation to achieve global goals such as the Universal Health Coverage (UHC) and SDGs by protecting people, promoting health value and prioritising equity.
The EAC Regional Health Data Governance is expected to build confidence among EAC Partner States as they keep on seamless and secure sharing of health data as part of efforts to improve regional cooperation on health.
The Forum further underscored the importance of launching the EAC Annual Interparliamentarian Forum on Health and called upon the EAC Secretariat to invite key stakeholders from regional and national parliaments as soon as possible.
Notes to Editors:
Transform Health is a coalition of more than 150 organisations committed to harnessing the potential of digital tools and data to achieve UHC by 2030, with a focus on the individuals and communities who are most affected by the lack of access to equitable, affordable, and high-quality healthcare.
Transform Health's overarching goal is for UHC to be achieved by harnessing digital technology and the use of data. Towards this goal, the coalition's objectives are:
Stronger political will – recognition of the fundamental role of digital technologies and data use to transform and strengthen health systems to expand primary health care which is an essential foundation for achieving UHC by 2030;
A global health data governance framework – a global framework, articulating a set of common/minimum regulations, to allow for full beneficial, impactful, and responsible management of health data, while safeguarding data privacy, ownership, and security, and;
Increased and coordinated investment – increased and better coordinated and aligned domestic and international financial commitments/investments to strengthen digitally-enabled primary health care systems.
For more information, please contact:
Simon Peter Owaka
Senior Public Relations Officer Corporate Communications and Public Affairs Department EAC Secretariat Arusha, Tanzania Tel: +255 768 552087 Email: This email address is being protected from spambots. You need JavaScript enabled to view it.
About the East African Community Secretariat:
The East African Community (EAC) is a regional intergovernmental organisation of seven Partner States, comprising the Republic of Burundi, the Democratic Republic of Congo, the Republic of Kenya, the Republic of Rwanda, the Republic of South Sudan, the Republic of Uganda and the United Republic of Tanzania, with its headquarters in Arusha, Tanzania.
The EAC Secretariat is ISO 9001: 2015 Certified