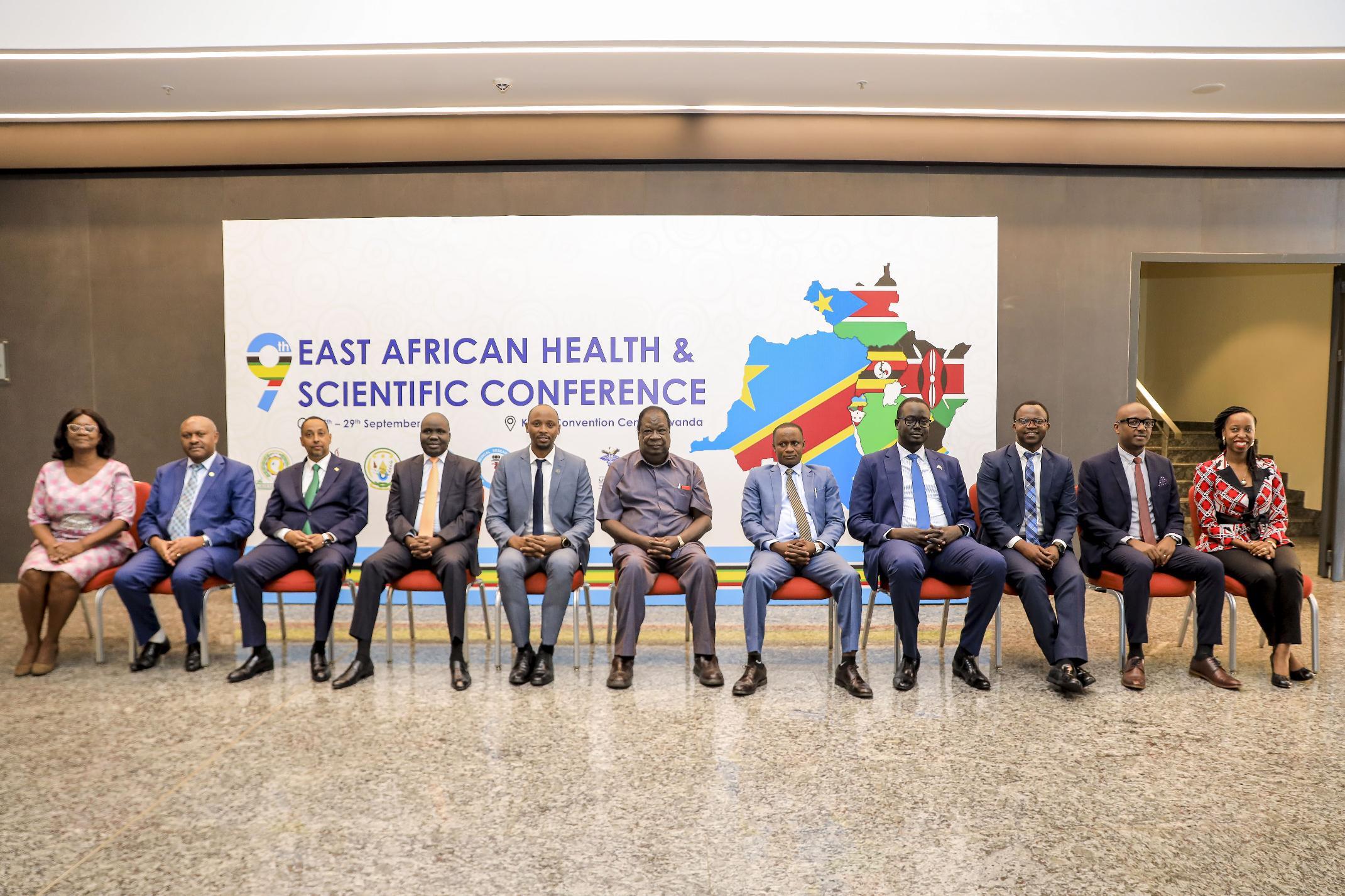 Leverage in new technologies to tackle emerging diseases, EAC Partner States urged
East African Community Headquarters, Arusha, Tanzania, 27th September, 2023: Health experts in the East African Community (EAC) Partner States have been urged to use new technologies to manage emerging diseases.
Rwanda's Minister of Health, Dr. Sabin Nsanzimana, said that digital technologies would enable Partner States to use limited personnel and resources to make access to healthcare simpler and better for their citizens.
Dr. Nsanzimana further said that strategising on the scaling up of digital technologies and emphasising their use would promote real time monitoring of disease outbreaks and responses.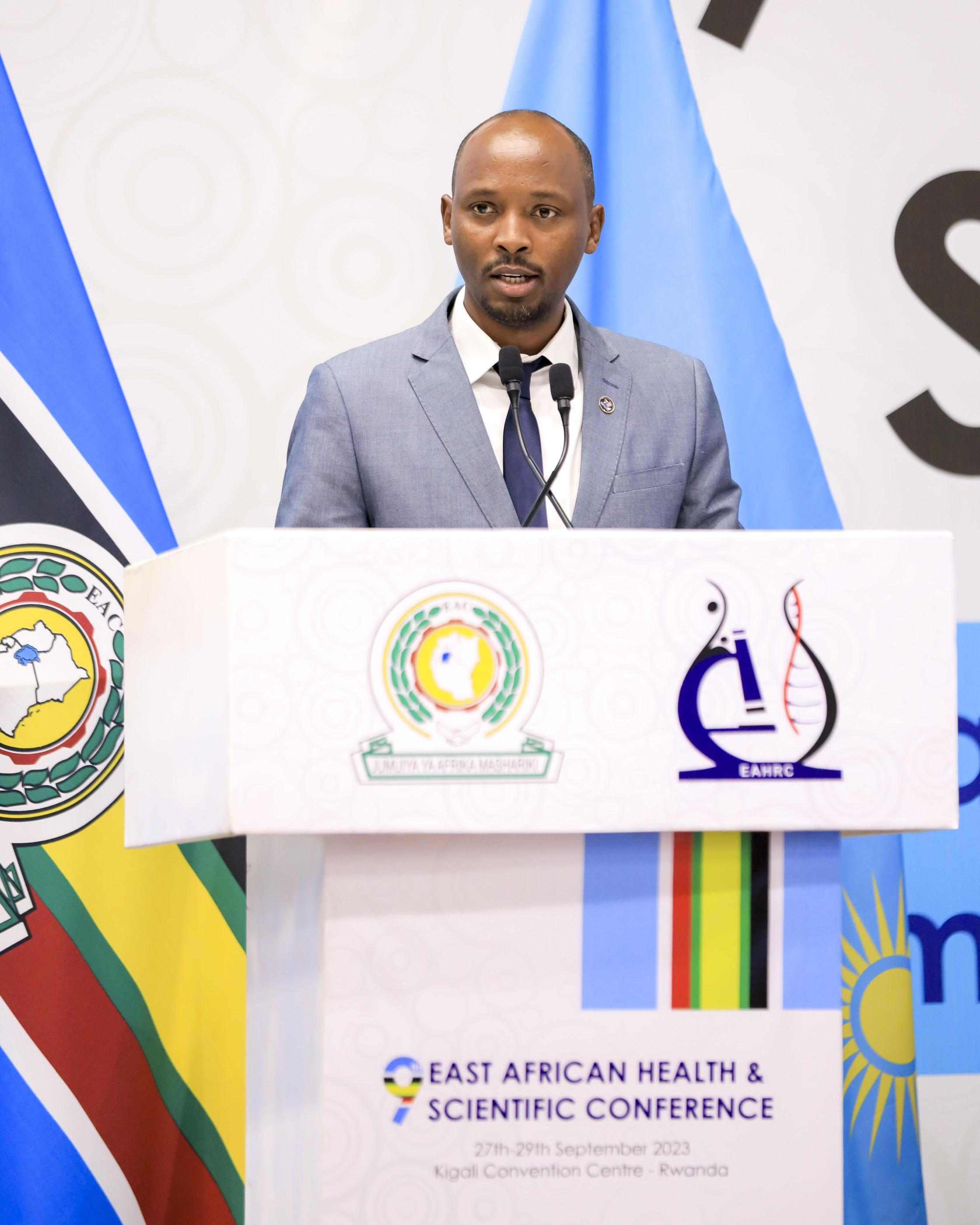 The Minister observed that the Covid-19 pandemic had exposed African countries' vulnerabilities and gaps in their healthcare systems, adding that there was a need for experts in the health sector to be more innovative, work faster and smarter in improving healthcare.
Dr. Nsanzimana underscored the need for robust health systems and preparedness plans and the importance of scientific research and data in evidence-based decision making, in addition to the rapid development of diagnostic tests and vaccines.
Dr. Nsanzimana, who was speaking when he officially opened the 9th East African Health and Scientific Conference (9th EAHSC) at the Kigali Convention Centre in Kigali, Rwanda emphasised the importance of increasing the life expectancy of East Africans.
The Minister further urged EAC Partner States' governments to implement the resolutions of the bi-annual health and scientific conferences in order to create better and stronger health systems in the region.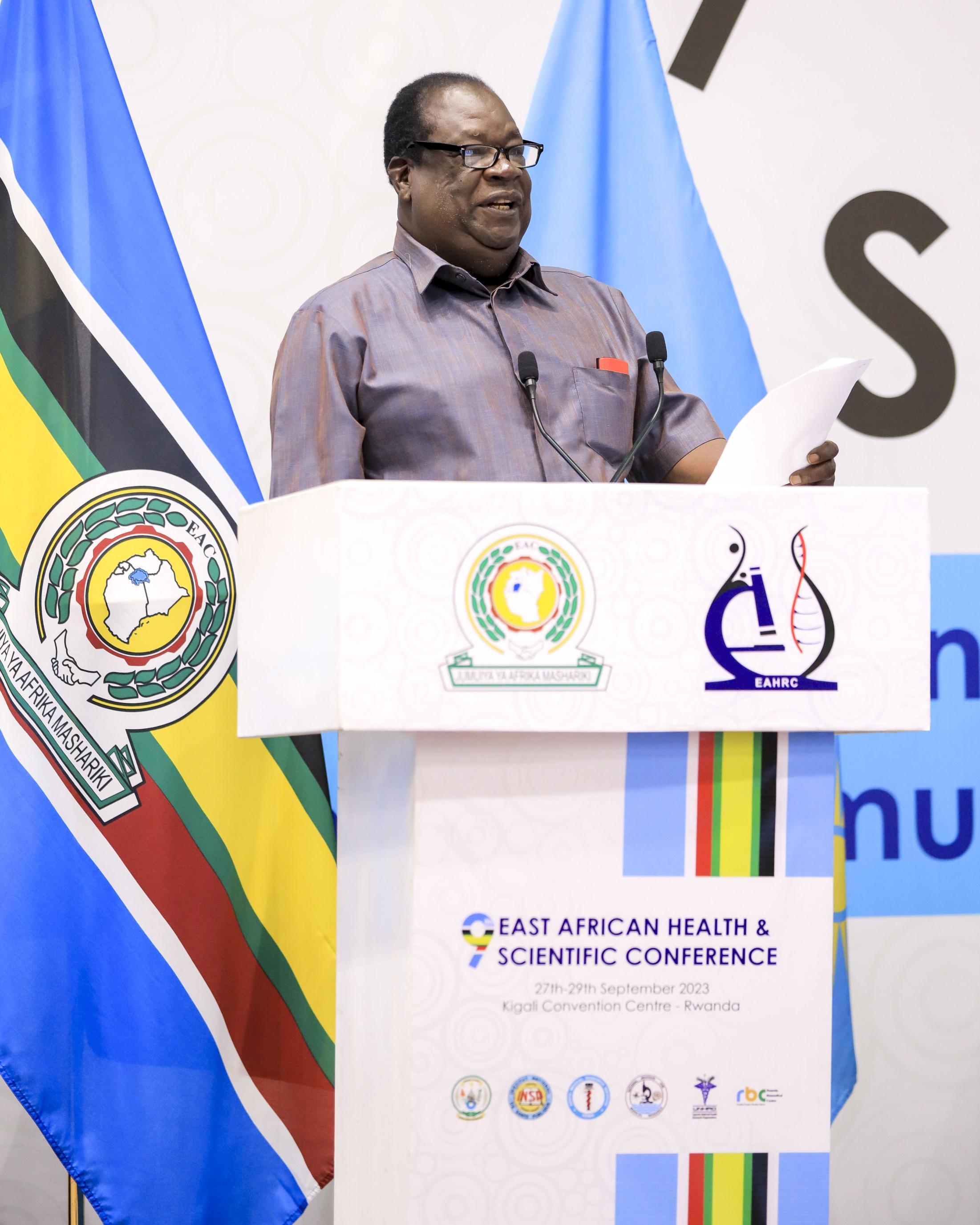 Speaking at the event, Uganda's Minister of State for EAC Affairs, Hon. James Magode Ikuya, said that diseases don't know boundaries, thus the need to strengthen collaboration and knowledge sharing for stronger health systems in the region.
"The COVID-19 Pandemic taught us many lessons especially the need to work together as Partner States of the EAC in developing harmonised strategies for prevention, management and control of disease outbreaks and epidemics. Many of our countries are still struggling to develop and manufacture lifesaving commodities such as vaccines and critical medicines within the region," said Hon. Ikuya.
Speaking on behalf of the EAC Secretary General, Hon. (Dr.) Peter Mathuki, the EAC Deputy Secretary General (DSG) in charge of Infrastructure, Productive, Social and Political Sectors, Hon. Andrea Ariik Aguer Malueth, said that the East African region is still threatened by Communicable Diseases like Tuberculosis, Malaria and HIV/AIDS with a huge negative impact on EAC Citizens' life and the overall economy.
"The region has also experienced a number of outbreaks of haemorrhagic fevers with a high fatality rate such as Ebola and Marburg. We commend the Republic of Uganda for the successful containment of the recent outbreak of Ebola during the last quarter of 2022 on the one hand, and United Republic of Tanzania for stopping the recent Marburg Outbreak in March 2023," said Hon. Malueth.
Hon. Malueth said that the region like the rest of the Africa is also facing the increasing burden of Non-Communicable Diseases like cardiovascular diseases, cancers, respiratory diseases, mental illness and diabetes that need particular attention of our leaders and deliberate efforts of all us as to control them.
The DSG said that to address these health issues the EAC has facilitated the establishment of a number of Regional Centres of Excellence such as the: Biomedical Engineering, e-Health, and Health Rehabilitation Sciences - University of Rwanda, Kigali, Rwanda; Cardiovascular Sciences – Muhimbili University of Health and Applied Sciences, Dar es Salaam, Tanzania; Oncology, - Mulago Hospital, Kampala, Uganda; Urology and Nephrology - Kenyatta National Hospital, Nairobi, Kenya; Nutritional Sciences – University of Burundi, Burundi.
"Other centres of excellence include: Vaccines, Immunization and Health Supply Chain Management, University of Rwanda; Vaccines and Health Supply Chain Management, Kigali; Medical Diagnostics at the Uganda Virus Research Institute to enhance the capacity of the Region in the detection of outbreaks and other diseases with the potential to harm the wellbeing of the EAC citizens and residents," said Hon. Malueth.
The DSG said that the Conference would make recommendations on matters affecting health research, knowledge generation, technological development, policy formulations, practices and related matters.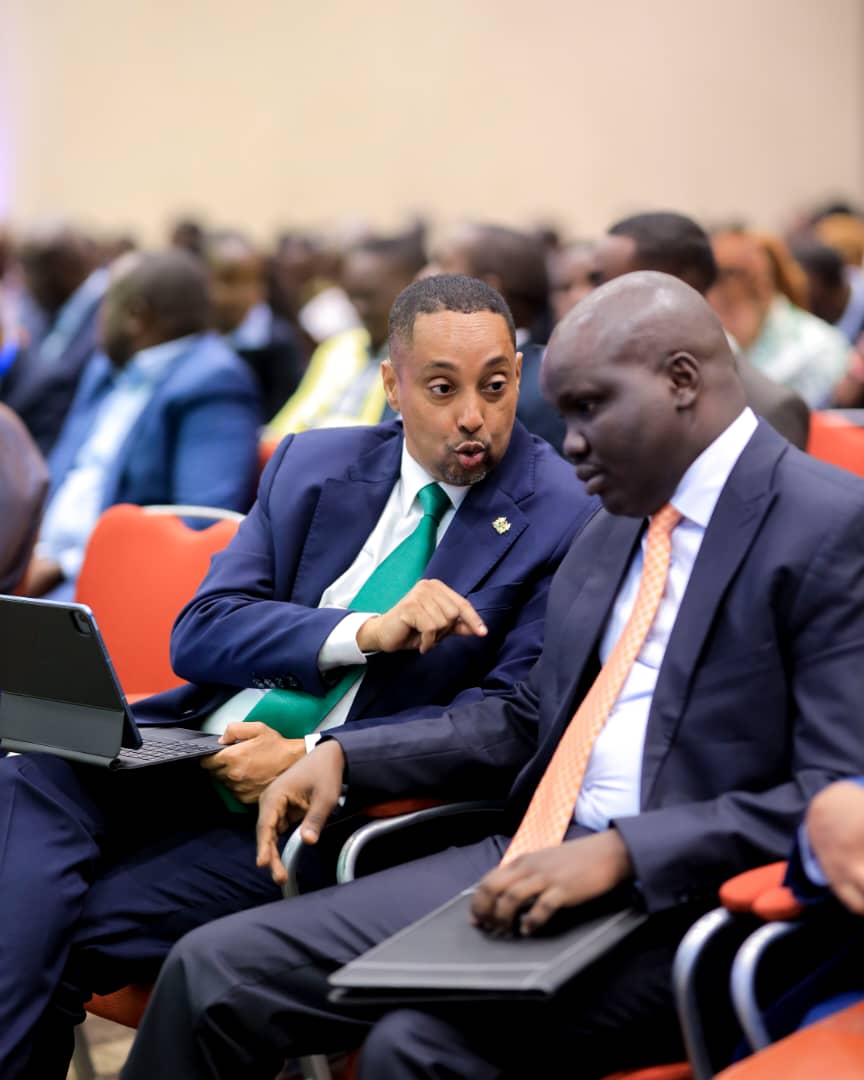 In his remarks, the Principal Secretary in the State Department of EAC, Kenya, Dr. Abdi Dubat Fidhow, disclosed that the Republic of Kenya has been implementing the research findings and recommendations of the previous scientific conferences, adding that the country fully committed to implementing the research findings and recommendations from this 9th Conference
On his part, the Deputy Executive Secretary of the East African Health Research Commission, Dr. Novat Twungubumwe, said that the East African region is threatened both by Communicable and Non-Communicable Diseases.
"We have a number of communicable diseases such as Tuberculosis, Malaria and HIV/AIDS are causing a heavy burden to EAC Citizens' life and to our economies. Here we may also point out other preventable outbreaks including Cholera, Measles, Rift Valley Fever (RVF), Yellow Fever, among other ailments," said Dr. Twungubumwe.
"In the past years, infectious diseases have been major concern in Africa. However, the attention now is slowly shifting toward non-communicable diseases (NCDs), which are on the rise in many parts of Africa due to pollution, westernized diets, reduced physical activity levels, urbanization, and increased tobacco and alcohol consumption, to name a few. Currently, in East Africa, 40% of all deaths are attributable to NCDs," said the Deputy Executive Secretary.
"We can mention the five major Non-Communicable Diseases that are trying to find their home in our EAC Citizens' households which are: cardiovascular diseases, cancers, respiratory diseases, mental illness and diabetes, other non-communicable conditions like sickle cell disease, injuries and disabilities which are highly prevalent in East Africa," he added.
Also present was Burundi's EAC Affairs PS, Mr. Severin Mbarubukeye, the Under Secretary in the Ministry of Health, South Sudan, Dr. Adier Machar Achiek, and Mr. Zachee Iyakayemre, the PS in Rwanda's Ministry of Health.
For more information, please contact:
Simon Peter Owaka
Senior Public Relations Officer Corporate Communications and Public Affairs Department EAC Secretariat Arusha, Tanzania Tel: +255 768 552087 Email: This email address is being protected from spambots. You need JavaScript enabled to view it.
About the East African Community Secretariat:
The East African Community (EAC) is a regional intergovernmental organisation of seven Partner States, comprising the Republic of Burundi, the Democratic Republic of Congo, the Republic of Kenya, the Republic of Rwanda, the Republic of South Sudan, the Republic of Uganda and the United Republic of Tanzania, with its headquarters in Arusha, Tanzania.
The EAC Secretariat is ISO 9001: 2015 Certified