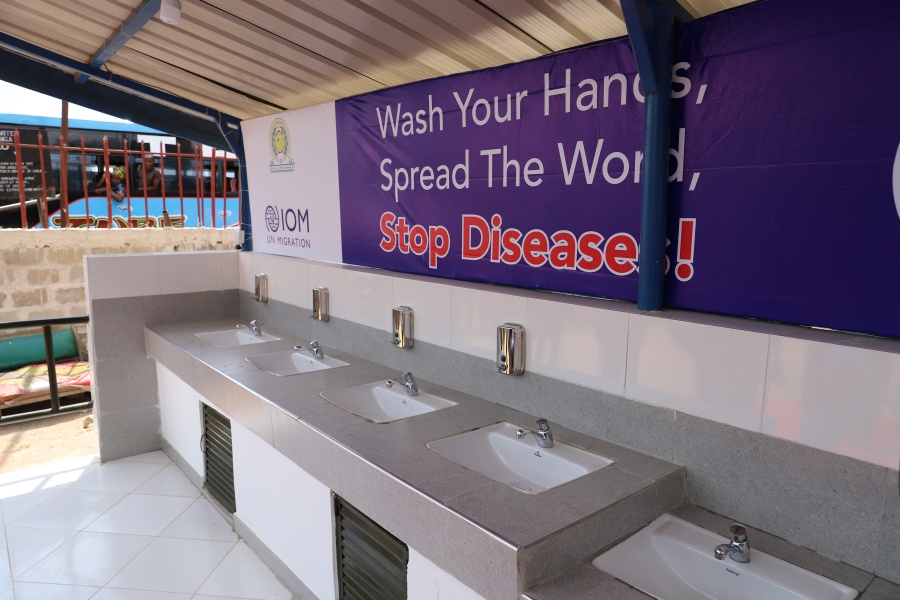 EAC, IOM, GIZ hand over WASH facilities to East African Community Partner States
East African Community Headquarters, Arusha, Tanzania, 17th May, 2022: The East African Community (EAC), International Organization for Migration (IOM) and German Agency for International Cooperation (GIZ) have officially handed over handwashing facilities to authorities in six EAC Partner States as part of efforts to strengthen cross border collaboration on water, sanitation and hygiene (WASH). A total of 32 such facilities have been built in high risk areas for the spread of infectious diseases in the six countries of Burundi, Kenya, Rwanda, South Sudan, Tanzania and Uganda. The cooperation project that ended with the hand-over of these facilities also included risk and crisis communication and sensitization measures in the respective communities.
The handwashing facility at Kamanga Point of Entry in the city of Mwanza was handed over to the government of Tanzania on 14 May, 2022. This happened during a regional meeting held from 12 to 14 May, 2022 in Mwanza that brought together national authorities, experts, decision-makers, and key stockholders from across the EAC region. The meeting also aimed to identify and address gaps in strengthening cross-border preparedness and response and promote regional standards and policies in accordance with the International Health Standards (IHS).
The meeting also provided an opportunity to understand the current cross border situation on health and WASH gaps and key public health threats, discuss issues, challenges, gaps, and opportunities as well as operational modalities to strengthen cross border coordination mechanisms to better respond to WASH, infection prevention and control gaps in the EAC region; discuss and agree on key actions points for a bilateral and multilateral mechanism to enhance cross-border collaboration; and to develop a road map as a strategic priority to enhance regional cross border collaboration.
The project comes against a backdrop of high human mobility and risk of spread of communicable diseases in the region. The project is expected to increase awareness and enhance health and hygiene protective behaviors and practices to prevent the spread of zoonotic and water-borne infectious diseases including COVID-19, in selected high-risk areas along transport and waterway corridors in the six Partner States.
The COVID-19 pandemic has shed the spotlight on the need to focus on improving the region's ability to respond to the special requirements of cross-border preparedness and response and address the needs of migrants and cross border communities.
IOM in partnership with GIZ and EAC Secretariat continues to support the Member States capacity for preparedness and response to pandemic and epidemics and other public health emergencies across the border and along migratory routes in compliance with the WHO IHR (International Health Regulations) (2005).
The launch of the project also culminated in the official onsite handover one of the project facility which is the handwashing facility in Kamanga Point of Entry of Mwanza in Tanzania.
"The project has helped increase awareness and enhance health and hygiene protective behaviors and practices to prevent and respond to the spread of infectious diseases including COVID-19 in EAC region," said Christophe Bazivamo, the EAC Deputy Secretary General.
On his part, Mohammed Abdiker, IOM Regional Director for the East, and Horn of Africa said, "Population mobility across borders is one of the main factors that drove the spread of COVID-19 and made the pandemic so complex and difficult to contain. IOM shall continue its support to national public responses for COVID-19 and other pandemics. IOM will contribute to strengthening the capacities of institutions and health personnel building on lessons learnt from our current interventions."
GIZ representative, David Mbulumi said "we believe that experience and lessons from implementation of this project will be useful as a reference point in strengthening cross border preparedness and response".
The project was financially and technically supported by the German Government through the "Support to Pandemic Preparedness in the EAC Region" project, is implemented by GIZ in close cooperation with the EAC Secretariat. Direct implementation was in all six Partner States through IOM country offices and National Focal points from relevant ministries, local government authorities, border authorities, other stakeholders and implementing partners.
For more information, please contact:
Simon Peter Owaka
Senior Public Relations Officer
Corporate Communications and Public Affairs Department
EAC Secretariat
Arusha, Tanzania
Tel: +255 768 552087
Email: sowaka [at] eachq.org
About the East African Community Secretariat:
The East African Community (EAC) is a regional intergovernmental organisation of six Partner States, comprising Burundi, Kenya, Rwanda, South Sudan, Tanzania and Uganda, with its headquarters in Arusha, Tanzania.
The EAC Secretariat is ISO 9001: 2015 Certified