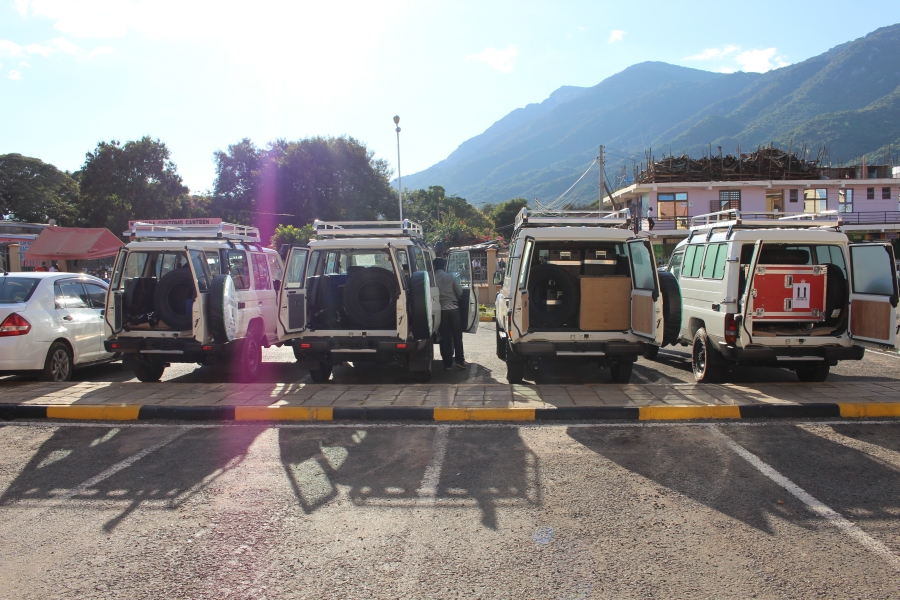 EAC Secretariat hands over Mobile Laboratories to the Republic of Kenya
East African Community Headquarters, Arusha, Tanzania, 21st May, 2020: The East African Community Secretariat has handed over mobile laboratories and Coronavirus test kits to the Republic of Kenya.
During the hand-over ceremony at the Tanzania/Kenya border town of Namanga, the EAC Secretariat handed-over two four-wheel drive vehicles fitted with laboratory and ICT equipment, as well as all the necessary consumables for a fully functional laboratory with the capacity to conduct tests for Ebola and the coronavirus in addition to other pathogens.
The EAC also handed over two additional four wheel drive vehicles that will be used to transport the technicians manning the mobile laboratories.
The mobile laboratories, now deployed in all the EAC Partner States, are to enhance the Network of Public Health Reference Laboratories in their response and rapid detection and confirmation of communicable diseases that may cause epidemics or pandemics in the region such as Ebola and COVID-19.
Representing the EAC Secretariat during the hand-over ceremony, Hon. Christophe Bazivamo, the EAC Deputy Secretary General in charge of Productive and Social Sectors, said the laboratories where furnished with modern equipment such as Polymerase chain reaction (PCR) and Enzyme-linked immunosorbent assay (ELISA) machines that are able to diagnose most pathogens causing communicable diseases such as Ebola and COVID-19.
"These mobile laboratories are able to provide safe, accurate and timely patient results for biosafety levels 3 and 4 pathogens," said Hon. Bazivamo.
"As the name signifies, these laboratories are mobile and therefore can be disassembled and assembled easily and taken to specific locations of outbreaks within our Partner States," added Hon. Bazivamo.
The Mobile Laboratory Project is an initiative of the EAC Secretariat and is being funded by the Republic of Germany through the German Development Bank (KfW) and the Bernhard Nocht Institute for Tropical Medicine (BNIT).
In addition to the mobile laboratories, the EAC Secretariat has also been providing COVID-19 reagents to the Partner States to better facilitate the testing and management of the coronavirus pandemic.
- ENDS -
For more information, please contact:
Simon Peter Owaka
Senior Public Relations Officer
Corporate Communications and Public Affairs Department
EAC Secretariat
Arusha, Tanzania
Tel: +255 768 552087
Email: sowaka [at] eachq.org
About the East African Community Secretariat:
The East African Community (EAC) is a regional intergovernmental organisation of six Partner States, comprising Burundi, Kenya, Rwanda, South Sudan, Tanzania and Uganda, with its headquarters in Arusha, Tanzania.
The EAC Secretariat is ISO 9001: 2015 Certified
Tags: COVID-19, Mobile Labs