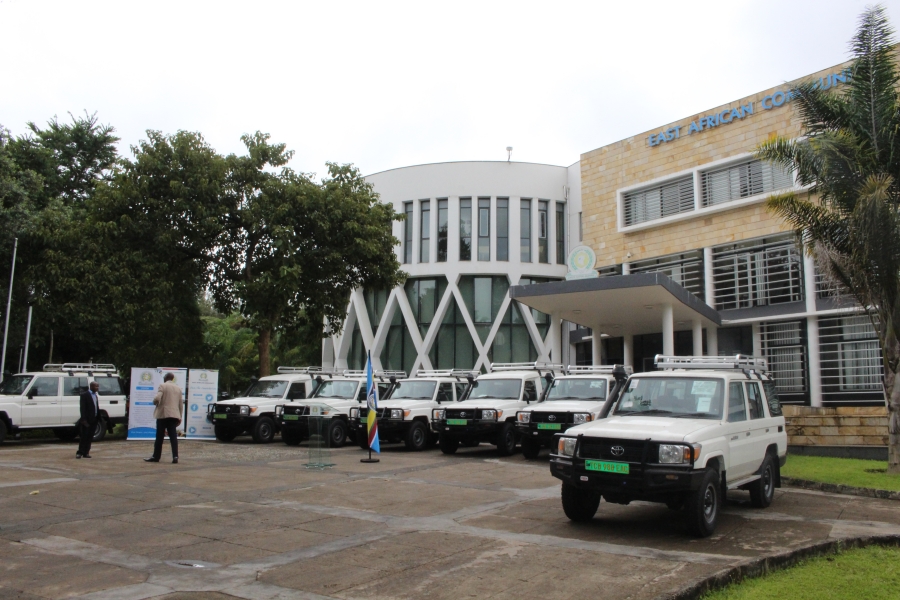 EAC deploys Mobile Laboratories and testing kits to all Partner States
………..As Partner States battle COVID-19
East African Community Headquarters, Arusha, Tanzania, 15th April, 2020: The East African Community under the Mobile Laboratory Project has today deployed nine (9) mobile laboratories and Coronavirus test kits to all EAC Partner States in a bid to detect and respond to highly infectious diseases such as COVID-19 and Ebola.
Speaking to the media while flagging off the mobile laboratories and equipment, EAC Secretary General, Amb Liberat Mfumukeko said tha each Partner State would receive a four wheel drive vehicle fitted with laboratory and ICT equipment, as well as all the necessary consumables for a fully functional laboratory with the capacity to conduct tests for Ebola and the Coronavirus in addition to other pathogens.
"A total of 9 Mobile Laboratories are being deployed to the Partner States as follows: Republic of Burundi -1, Republic of Rwanda -1, Republic of South Sudan -1, Republic of Kenya - 2, Republic of Uganda - 2 and United Republic of Tanzania - 2," said the Secretary General.
Amb. Mfumukeko said that in addition to the Mobile Laboratories, the EAC Secretariat has also provided COVID-19 tests kits, Personal Protective Equipment (PPE) including gloves, gown, mask goggles, and shoe protectors, and other consumables to the Partner States.
Amb Mfumukeko disclosed that the Mobile Laboratories had been equipped with modern equipment and could diagnose most pathogens in addition to providing safe, accurate and timely patient results for COVID-19, Ebola and other disease-causing pathogens..
He added that the EAC Secretariat has trained a total of 18 Laboratory Experts from the Partner States who are skilled trainers and certified proficient operators/ users on the operation of the Mobile Laboratories
The Secretary General thanked the Government of Germany through the German Development Bank (KfW) for funding the EAC Mobile Laboratory Project especially at this critical moment when the Community is battling with COVID-19.
- ENDS -
For more information, please contact:
Simon Peter Owaka
Senior Public Relations Officer
Corporate Communications and Public Affairs Department
EAC Secretariat
Arusha, Tanzania
Tel: +255 768 552087
Email: sowaka [at] eachq.org
About the East African Community Secretariat:
The East African Community (EAC) is a regional intergovernmental organisation of six Partner States, comprising Burundi, Kenya, Rwanda, South Sudan, Tanzania and Uganda, with its headquarters in Arusha, Tanzania.
The EAC Secretariat is ISO 9001: 2015 Certified
Tags: COVID-19, Mobile Labs