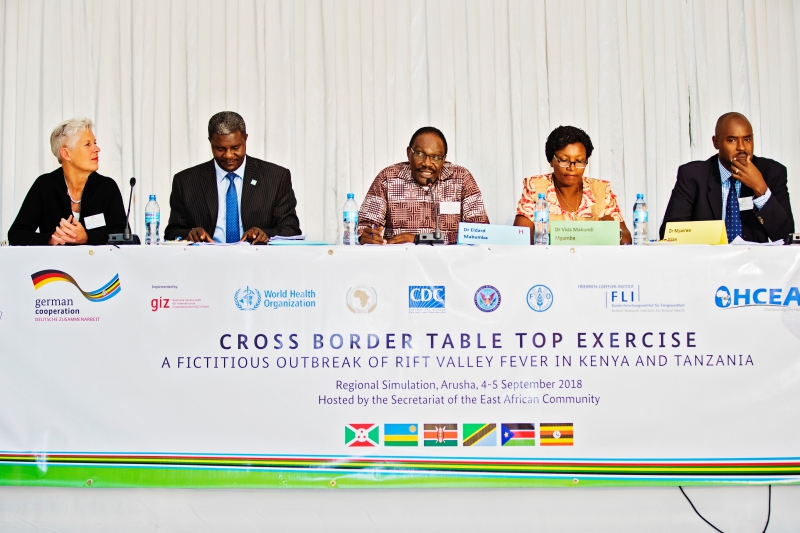 East African Community Partner States gather to test and improve Outbreak preparedness
East African Community Headquarters, Arusha, 14th September, 2018: More than 100 EAC experts, citizens and guests gathered in Arusha on 4-5 September 2018 as part of a table top exercise (TTX) to identify opportunities for improvement in emergency preparedness and response. A TTX is a role-playing activity, which uses a fictitious story to test processes and mechanisms during an emergency.
In the TTX, the fictitious story focused on an imaginary outbreak of Rift Valley Fever (RVF) on the border of Kenya and Tanzania. In addition to Kenyan and Tanzanian representatives, three of six EAC Partner States – Rwanda, South Sudan and Uganda – participated as observers.
The World Health Organisation (WHO) facilitated the exercise, with support from the government of Germany through the Deutsche Gesellschaft fürInternationale Zusammenarbeit (GIZ).
Rift Valley Fever is a disease that impacts both animals and humans, and thus requires a "One Health" approach, which integrates both human health and animal health expertise. The "One Health" approach acknowledges and respects the connection between the health of humans, animals, and the environment.
"The TTX was particularly timely, as our region is frequently impacted by outbreaks of Rift Valley Fever and other diseases of animal origin – including Ebola," said Dr. Michael Katende of the EAC Secretariat. "The Secretariat honors the dedication of all in involved in "One Health" and the TTX, as we work together to address our shared regional concerns."
The TTX provided an opportunity to train participants on their roles and responsibilities in preparedness and response – including risk and crisis communication, stakeholder coordination, logistics, management, and leadership.
The meeting attracted some 100 representatives from EAC Partner States, including Ministries of East African Affairs, Health, Agriculture, Tourism, and the Environment. The attendees included representatives from the military, tourism and trade, business, human and animal health, public medical facilities, Ports of Entry, communities, religious leaders and media.
External participants came from regional and international organisations, including the African Union, the US Centers for Disease Control and Prevention (CDC), the US Defense Threat Reduction Agency (DTRA), the United Nations Food and Agriculture Organization (FAO/ECTAD), the German Federal Friedrich Loeffler Institute for Research on Animal Health, KfW/Bernhard-Nocht-Institute for Tropical Medicine (BNITM), the World Organisation for Animal Health (OIE), One Health Central and Southern Africa (OHCEA) and Public Health England (PHE).
-ENDS-
For more information, please contact:
Mr Owora Richard Othieno
Head, Corporate Communications and Public Affairs Department
EAC Secretariat
Arusha, Tanzania
Tel: +255 784 835021
Email: OOthieno [at] eachq.org
About the East African Community Secretariat:
The East African Community (EAC) is a regional intergovernmental organisation of five Partner States, comprising Burundi, Kenya, Rwanda, Tanzania and Uganda, with its headquarters in Arusha, Tanzania.
The EAC Secretariat is ISO 9001:2008 Certified