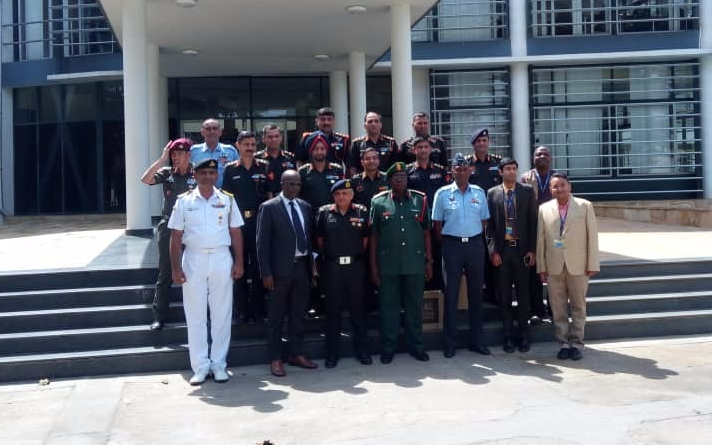 Senior Indian Army Officers visit EAC Headquarters
East African Community Headquarters, Arusha, Tanzania, 29th September, 2018: This morning the EAC Secretariat hosted a delegation of 17 Senior Indian Army Officers led by Brigadier Sandeep Rawat, who are in the United Republic of Tanzania to acquaint themselves with economic and socio-political development, political perspectives and security outlook of the country.
The Officers were accompanied to the Secretariat by Senior Tanzania People's Defence Force (TPDF) Officers.
Receiving the delegation on behalf of the Secretary General of the East African Community, the Director of Trade, Al haji Rashid Kibowa, commended the cordial relations existing between the Indian government and the regional bloc.
The Director briefed the guests on the current status of the regional integration process and focused on Trade and Multilateral Issues of the East African Community. He expressed appreciation for the contribution that the Indian investors have made in the manufacturing and business sectors in the region.
He informed the officers that the Community had negotiated Trade Agreements including COMESA-EAC-SADC Tripartite Free Trade Area (FTA), Africa Continental FTA, EAC-EU Economic Partnership Agreement, and EAC – U.S Trade and Investment Partnership to facilitate market entry for EAC exports.
The region had also developed a Trade Negotiations Framework (TNF) to guide the Partner States in negotiating trade agreements with third Parties.
The Director also elaborated measures that have been put in place to eliminate Non-Tariff Barriers (NTBs) that remain a serious obstacle to trade within the region.
-ENDS-
For more information, please contact:
Mr Owora Richard Othieno
Head, Corporate Communications and Public Affairs Department
EAC Secretariat
Arusha, Tanzania
Tel: +255 784 835021
Email: OOthieno [at] eachq.org
About the East African Community Secretariat:
The East African Community (EAC) is a regional intergovernmental organisation of five Partner States, comprising Burundi, Kenya, Rwanda, Tanzania and Uganda, with its headquarters in Arusha, Tanzania.
The EAC Secretariat is ISO 9001:2008 Certified