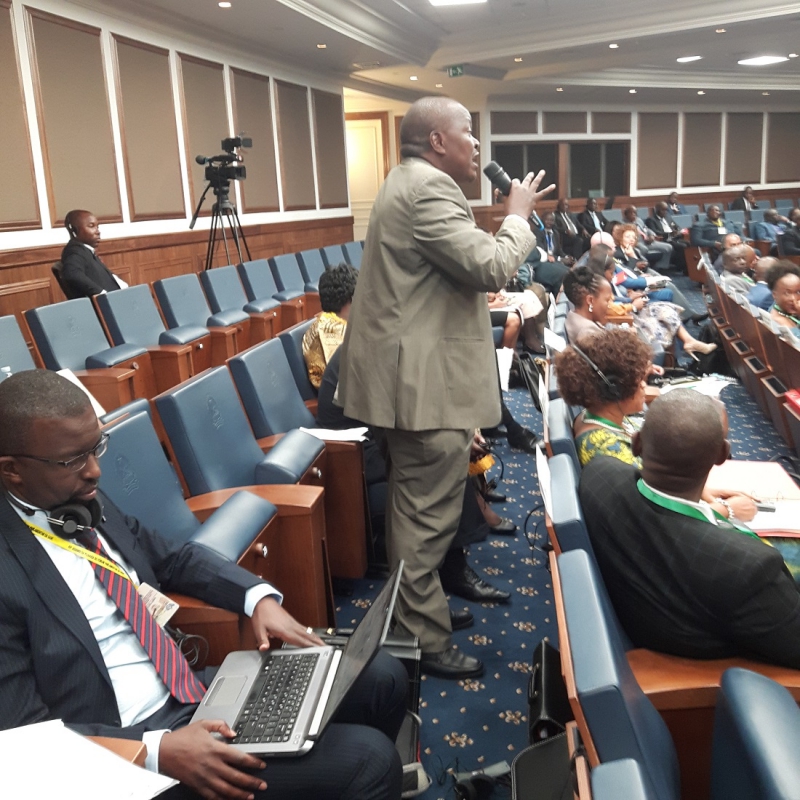 EALA Member urges SADC Legislators to join industrialization push
East African Legislative Assembly, Luanda, Angola: 28 June, 2018: Industrialization is a key component achievable within economic communities through enhanced push for integration and commitment to the ideals of an economic bloc.
In order to achieve the same, legislators among other stakeholders need to effectively undertake their role, EALA Member, Hon Kasamba Mathias has said. Hon Kasamba made the remarks at a symposium on the sidelines of the on-going 43rd Southern African Development Community Parliamentary Forum (SADC-PF) in Luanda, Angola.

Hon Kasamba who is Chairperson of the Agriculture, Tourism and Natural Resources said the EAC region continued to underscore importance of industrialization in the quest to realise full benefits of integration. The legislator was reacting to a paper presented by the Senior Officer, in charge of Industrialization and Competitiveness at the SADC Secretariat, Dr Johansein Rutaihwa entitled deepening SADC Economic Integration through Industrialisation: the Role of Parliament.
Dr.Rutaihwa informed the Symposium that SADC region was making progress in improving the business environment and its competitiveness in general, although the performance was mixed as a result of the macro-economic background.

In order to enhance industrialization, Dr Rutahiwa informed participants of SADC's Industrialisation strategy (2015-2963) which anticipates three key guiding principles; Industrialization as champion of economic and technological transformation, competitiveness (at the firm/industry, country and regional level) and the uptake of regional integration in the context for industrial development and economic prosperity. Dr Rutaihwa said the SADC region was keen to prioritise agro-processing, minerals beneficiation and the pharmaceuticals.
The presenter urged Parliaments and legislators to encourage Member States to mainstream the regional industrialization strategy in their national policies and to be fully involved especially with regards to domestication of the industrial policies within their national set-ups.
The vision of SADC is to build a region in which there will be a high degree of harmonisation and rationalisation, to enable the pooling of resources to achieve collective self-reliance in order to improve the living standards of the people of the region.
- ENDS -
For more information, please contact:
Bobi Odiko
Senior Public Relations Officer
East African Legislative Assembly
Arusha, Tanzania
Tel: +255-27-2508240
Fax: +255-27-2503103
Cell: +255-787-870945, +254-733-718036
Email: BOdiko [at] eachq.org
Web: www.eala.org
About the East African Legislative Assembly:
The East African Legislative Assembly (EALA) is the Legislative Organ of the Community and has a cardinal function to further EAC objectives, through its Legislative, Representative and Oversight mandate. It was established under Article 9 of the Treaty for the Establishment of the East African Community.
Tags: EALA