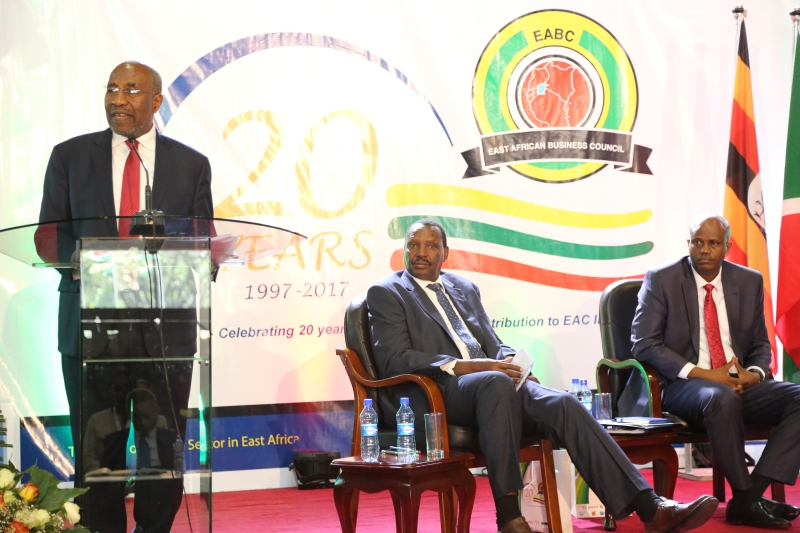 Intra-African Trade extremely low
East African Community Secretariat, Arusha, Tanzania, 23rd March, 2018:
Intra-African trade is extremely low and currently accounts for only 10% of all commerce on the continent, Uganda's Prime Minister Rt. Hon. Dr. Ruhakana Ruganda has said.
Dr. Rugunda called for concerted efforts between African governments and the private sector to enable the continent attain its development objectives.
Dr. Rugunda said that doing business as blocs was increasingly becoming the norm as evidenced by the signing earlier this week in Kigali, Rwanda of the Continental Free Trade Agreement (CFTA) by the leaders of 44 African countries.
Dr. Rugunda said that the CFTA, which will come into force within six months, would increase prosperity for 1.2 billion Africans, adding that it was a true learning experience for businesses across the globe.
The Prime Minister was speaking during the official opening session of the East African Business Council (EABC) 20th anniversary celebrations in Nairobi, Kenya. The PM represented President Yoweri Museveni at the event.
Dr. Rugunda hailed EABC for striving to see to it that regional integration process is achieved with meaning and tangible results for the citizens of the East African Community (EAC).
"Since the inception of the EABC, there has been progress towards achieving the integration process through trade and policy reviews, tax harmonization, discussions on the Northern Corridor, stakeholder engagements to improve the free movement of goods and services within the region," he said.
Dr. Rugunda noted that the region still faces many challenges along the route to full integration including the need for full harmonization of policies and laws.
"This is a process that is taking time for all Partner States but a lot of progress has been made in this direction. We have to keep the momentum," said the PM.
In his remarks, Kenya's Minister for Cooperatives, Trade and Industry, Mr. Adan Mohammed, who represented President Uhuru Kenyatta, said that the private sector in East Africa had also contributed to the challenges to intra-regional trade including non-tariff barriers to trade.
Mr. Mohammed said that the private sector had brought about NTBs by pushing their respective home governments to push for national interests as opposed to the regional integration agenda for the sake of preserving their markets.
He described the EAC as the most integrated regional economic bloc in terms of trade and infrastructure development, adding that the Community needs to stick together when negotiating trade agreements with other regional economic communities because there is strength in numbers.
Speaking at the event, Kenya's Minister for EAC and Northern Corridor Development, Hon. Peter Munya, said the region faced a challenge in the implementation of agreed protocols.
"National laws need to be aligned to regional protocols. Partner States also need to push for law reforms back home. The other alternative is to pass overarching laws at the regional level to replace existing legislation. This has been done with success in the European Union," said Hon. Munya.
Hon. Munya called for a review of the Common External Tariff and efforts to make the EAC Single Customs Territory work better, adding that the Community may need to establish a regional institution to make this possible.
He said that the region was currently a net importer of various commodities and advised that governments should prioritize industrialization. He said that Kenya had prioritized industrialization under its Big Four Agenda and particularly singled out the manufacture of apparels and local motor vehicle assembly.
EABC Chairman Jim Kabeho emphasized the importance of local content especially in huge infrastructure projects being undertaken by governments in the region.
"The local business sector should be allowed to participate in major projects including at the inception. All materials for these projects like cement and steel should be sourced locally rather than abroad. China currently dominates the supply of construction materials. Sourcing materials locally will lead to expanded sales as well as capacity building for local businesses," said Kibeho.
On agriculture, Mr. Kibeho said that though EAC Partner States' economies were agriculture-based this was not reflected in their budgets with minimal allocations going to the sector.
EAC Secretary General Amb. Liberat Mfumukeko disclosed that EAC and EABC had worked closely over the years with both institutions benefitting from the synergies of working together.
Amb. Mfumukeko said that through this partnership, EAC and EABC had contributed towards the conclusion of several regional legal instruments such as the Customs Union, Common Market and Monetary Union Protocols, One Stop Border Posts Act, the Framework on the elimination of non-tariff barriers to trade, and development of trade standards.
Also present at the event was the Chairperson of the EAC Council of Ministers, Hon. Kirunda Kivejinja, who is also Uganda's 2nd Deputy Prime Minister and Minister for EAC Affairs.
NOTES TO EDITORS:
The EABC is the apex body of business associations of the Private Sector and Corporates from the six EAC Partner States. EABC has 54 Associations and 108 Corporate Members. Among the associations area all the national Private Sector Apex Bodies; four manufacturers' associations; five Chambers of Commerce; three Employer Associations; two Women Associations; two Bankers' Associations, and; the Confederation and Informal Sector Associations of East Africa.
EABC is currently pursuing a Five-Point Regional Plan to promote East African trade and investment flows, namely:
Eliminate non-tariff barriers (NTBs);
Reform the EAC Common External Tariff (CET);
Improve regional infrastructure;
Fast-track liberalisation of intra-EAC services trade, and;
Promote local sourcing
-ENDS-
For more information, please contact:
Mr Owora Richard Othieno
Head, Corporate Communications and Public Affairs Department
EAC Secretariat
Arusha, Tanzania
Tel: +255 784 835021
Email: OOthieno [at] eachq.org
About the East African Community Secretariat:
The East African Community (EAC) is a regional intergovernmental organisation of five Partner States, comprising Burundi, Kenya, Rwanda, Tanzania and Uganda, with its headquarters in Arusha, Tanzania.
The EAC Secretariat is ISO 9001:2008 Certified