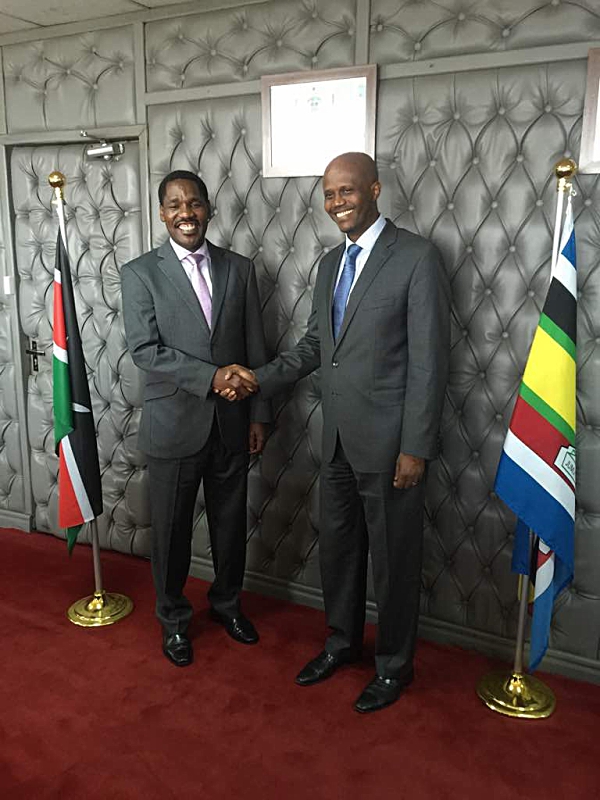 EAC Secretary General concludes Working Visit to Kenya
East African Community Headquarters, Arusha, 8th March, 2018:
The Secretary General of the East African Community (EAC) Amb. Liberat Mfumukeko concluded a one-day working visit to the Republic of Kenya yesterday 7th March, 2018.
During the visit, the Secretary-General met and held talks with the newly appointed EAC and Northern Corridor Cabinet Secretary, Mr Peter Munya at the Ministry's Head Office, the Cooperative Bank Building, Haile Selassie Avenue.

The objective of the visit was to brief the newly appointed EAC and Northern Corridor Cabinet Secretary, Mr Peter Munya on the status of the EAC integration process, the key issues around the Northern Corridor infrastructural projects and other useful insights into the integration process.
Amb. Mfumukeko and his host discussed in details on the key issues of integration, including reform efforts at the Secretariat, and key achievements so far realized along the integration journey.

The two officials also discussed the progress so far made under the EAC Common Market, especially cross border movement and trade; regional infrastructural development , updates on implementation of the Customs Union and Monetary Union Protocols as well as the planned official launching of the Namanga One Stop Boarder Post on 20th April, 2018.
The Cabinet Secretary commended the good organization of the just ended EAC Summit of the Heads of States and the Joint EAC Heads of State Retreat on Infrastructure and Health Financing and Development, the work done by EAC to increase support by development partners to the EAC as well as the efforts to reduce operation cost at the EAC Secretariat
The Secretary General was accompanied by his Deputies Eng Steven Mlote in charge of Planning and Infrastructure, and Mr. Charles Njoroge, in charge of Political Federation.
-ENDS-
For more information, please contact:
Mr Owora Richard Othieno
Head, Corporate Communications and Public Affairs Department
EAC Secretariat
Arusha, Tanzania
Tel: +255 784 835021
Email: OOthieno [at] eachq.org
About the East African Community Secretariat:
The East African Community (EAC) is a regional intergovernmental organisation of five Partner States, comprising Burundi, Kenya, Rwanda, Tanzania and Uganda, with its headquarters in Arusha, Tanzania.
The EAC Secretariat is ISO 9001:2008 Certified