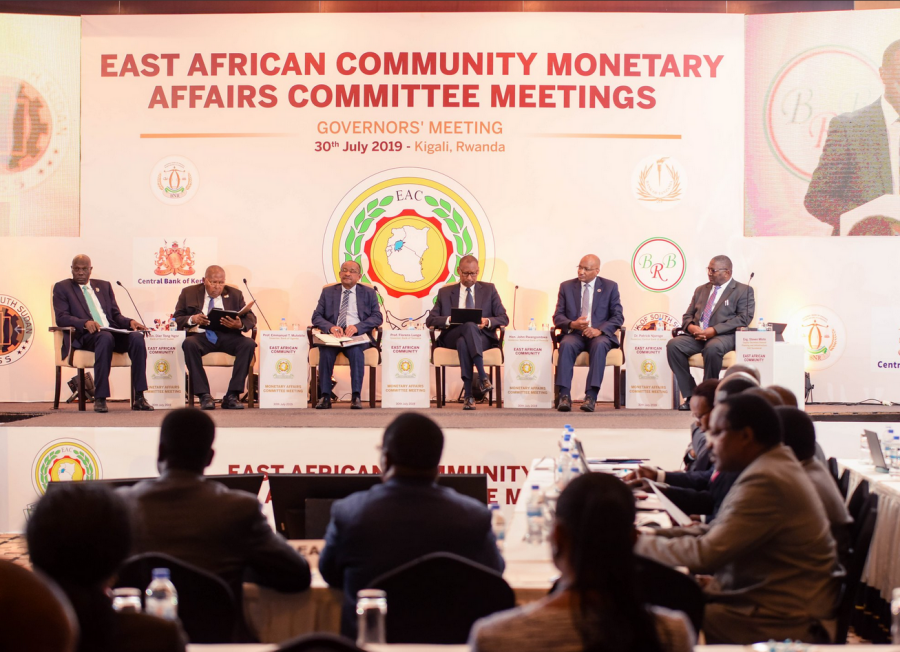 23rd ORDINARY MEETING OF THE EAST AFRICAN COMMUNITY MONETARY AFFAIRS COMMITTEE
KIGALI, RWANDA, 30TH JULY 2019

COMMUNIQUÉ
The 23rd ordinary meeting of the East African Community (EAC) Monetary Affairs Committee (MAC) was held at Kigali Serena Hotel in Rwanda on 30th July 2019. The meeting was chaired by Hon. John Rwangombwa, Governor of the National Bank of Rwanda, and current chairperson of MAC.
Present were:
Dr. Patrick Njoroge, Governor of the Central Bank of Kenya;
Prof. Florens Luoga, Governor of the Bank of Tanzania;
Hon. Dier Tong Ngor, Governor of the Bank of South Sudan;
Prof. Emmanuel Tumusiime-Mutebile, Governor of the Bank of Uganda; and
Eng. Steven Mlote, Deputy Secretary General, EAC Secretariat.
The meeting was held against a backdrop of continued strong economic performance in most of the EAC countries, driven partly by stronger growth in public investments, rebound in agriculture sector, resilient service receipts and accommodative monetary policy. The economic outlook for the region remains strong, supported by continued investment in infrastructure and accommodative monetary policy. The meeting observed that there are prospects for stronger growth in South Sudan, given the signing of the revitalised peace agreement, increased oil production and investment in infrastructure including power supply. However, downward risks to regional growth prospects remain partly associated with the ongoing trade and geopolitical tensions.
The meeting reviewed the status of implementation of previously agreed actions towards the operationalization of the East Africa Monetary Union (EAMU) protocol, with a focus on the decisions of the 22nd Ordinary MAC meeting held in Kampala, Uganda, in August 2018. The Governors reflected on the progress in attaining the convergence criteria and highlighted the areas that are lagging behind.
Governors noted that Partner States' Central Banks have made significant strides in the harmonization of monetary policy frameworks, exchange rate policies, rules and practices governing bank supervision, financial accounting principles, as well as payment systems. A number of national laws are also being harmonised. In addition, significant progress has been made towards the establishment of EAMU institutions as required by the Protocol.
Notwithstanding the above, Governors noted that there have been delays in realising targets set out in the EAMU roadmap and that there are several challenges that could further impede the timely implementation of EAMU protocol. Therefore, the Governors pledged to collaborate with stakeholders in the EAC integration process to fast-track pending activities of the EAMU roadmap.
The Governors reiterated the need to remain vigilant in fighting the risks arising from recent financial sector innovations especially to ensure that Central Banks in the region can effectively deal with Anti-Money Laundering and Counter Financing of Terrorism. The Governors also noted the need to continue building resilience to shocks in the financial sectors of the EAC Partner States. In this regard, they underscored their commitment to enhance coordination of activities that will support resilience of the financial sector and to follow-up on the progress towards the realization of EAMU.
Kigali, Rwanda, 30th July 2019.
Hon. John Rwangombwa

Dr. Patrick Njoroge

………………

Hon. Dier Tong Ngor

Prof. Florens Luoga

Prof. Emmanuel Tumusiime-Mutebile

National Bank of
Rwanda

Central Bank of
Kenya

Banque de la République du
Burundi

Bank of
South Sudan

Bank of
Tanzania

Bank of
Uganda