EAC Mobile Laboratories Training on Antimicrobial Resistance and Monkeypox Diagnosis

EAC Mobile Laboratories Practical Laboratory Training & Field Simulation Exercise (FSX) at Namanga, Kenya/Tanzania Border - Full Documentary
EAC Mobile Laboratories Practical Laboratory Training - Training of Trainers (TOT)

EAC Mobile Laboratories Practical Laboratory Training - Handling Infectious Specimen
An Overview of the EAC Mobile Laboratories Project and its regional importance

EAC Mobile Laboratories Practical Laboratory Training & Field Simulation Exercise (FSX) at Namanga, Kenya/Tanzania Border - Field Simulation Exercise
EAC Mobile Laboratories Training on Ebola Emergency Response - Highlights
The East African Community (EAC) signed a Financial Cooperation Agreement with the Federal Republic of Germany on 22nd January 2016. Subsequently, the EAC signed a 3-year financing and project implementation agreement with the Government of the Federal Republic of Germany through the German Development Bank Group (KfW) on 28th November 2016 to support the establishment and operationalization of the "EAC Regional Network of Public Health Reference Laboratories for Communicable Diseases Project (Phase I)". Given the region's requirement for technical support regarding this level of laboratory practice, the EAC Secretariat with support from KfW appointed the Bernhard Nocht Institute for Tropical Medicine (BNITM) Headquartered in Hamburg, Germany, as a Technical Consultant.
The purpose of the EAC mobile medical laboratory network during 2017-2020 (Phase I) was to install nine (9) mobile laboratories in order to strengthen the capacity of each of the six (6) EAC Partner States to detect and respond to pathogens of biosafety level 3 and 4 (BSL3/4) nature, with a particular focus on viral haemorrhagic viruses (VHFs), such as Ebola Virus Disease (EVD). among others.
These mobile laboratories are of modular design and, depending on the need, can be packed up in 15-20 boxes and rapidly deployed to any potential outbreak either by car, plane or boat. The key equipment of these laboratories is a BSL3/4 containment glovebox in which viruses and bacteria can be inactivated and rendered non-infectious for further diagnosis. The current setup of these phase I laboratories, however, does not allow the detection of bacterial pathogens and their antimicrobial resistance (AMR) profiles, as these analyses require pre-culture steps of viable bacteria for accurate diagnosis. This gap in diagnostic capacity was a priority issue raised during recent discussions with the Ministries of Health (MoH) and National Public Health Laboratories (NPHLs), during phase I of the mobile laboratory project.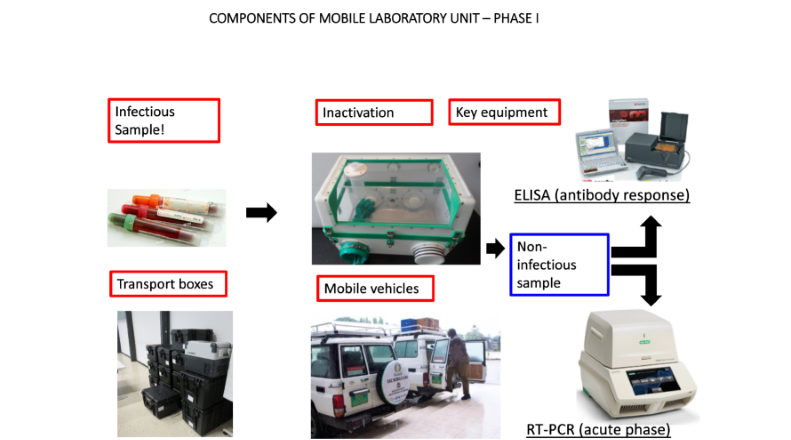 Currently, none of the partner countries has the capacity to safely culture bacterial pathogens in the field and therefore samples need to be collected from peripheral health centres and sent to centralised reference labs (mostly in capital cities) for culturing, diagnosis and antimicrobial resistance testing.
As time between sample collection and lab diagnostics can be considerable and cold chains difficult to maintain, many samples are compromised by the time they reach the reference lab. This frequently results in no diagnosis of that patient sample, which leads to both a cost burden on laboratories with limited resources and a lack of information, impacting on the clinician's ability to provide informed treatment.
This is a major problem facing national health facilities in the EAC region and is even more pertinent in the context of AMR, where the misuse of antibiotics to treat bacterial infections without evidence based antimicrobial resistance profiling of the pathogen is common practice. As outlined by the World Health Organisation's (WHO) Global Antimicrobial Resistance Surveillance System (GLASS) the development of AMR in numerous bacterial infections has reached alarming levels in many parts of the world, including East Africa. Consequently, a lack of field culture capabilities in the EAC region impairs both outbreak control and patient care through increased AMR.
Deployment of Mobile Laboratories in the Region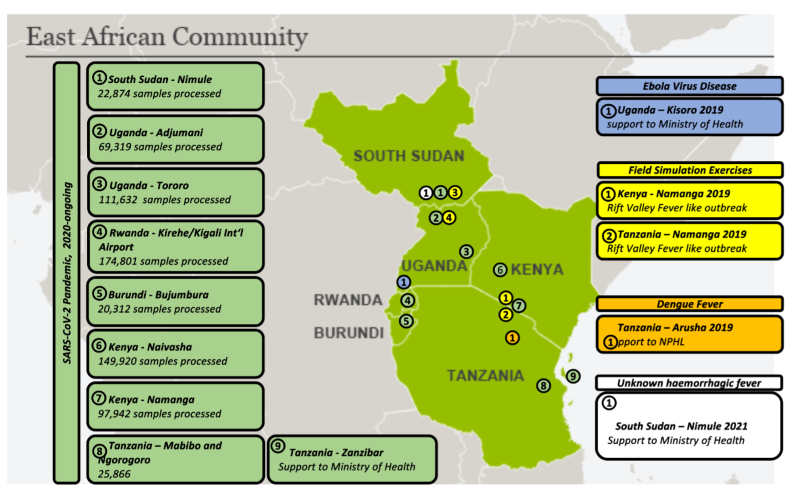 The Mobile Laboratories deployed to the EAC Partner States under Phase I of the ERNPHRL-CD project played a significant role in the region's' efforts towards mitigating the Covid-19 pandemic. Collectively, the national Mobile Laboratories reported to have supported the Partner States int he administration of Covid-19 tests as well as having played a significant role in reducing the turnaround time from sample collection to dispatch of test results.
An update on test statistics at the EAC mobile laboratories as of 30th June, 2022 (phase I) is highlighted below:

Partner State

No. of Mobile labs

Deployment

COVID 19 test statistics


Trained Experts

EQA enrolment / PT Scheme

Field Missions

No.

Current location

Total

TAT


TOTs

In-country

IATA

Bio-engineers

Conducted

Planned

Burundi

1

11

NPHL-INSP Bujumbura (no deployment during reporting period)

211

6 hrs

2

12

14

2

1WA, OASYS and INSTAND

Covid-19

Dengue fever, Yellow Fever, Cholera &. Measle

Kenya

2

2

Mai Mahiu

222,267

8 hrs

2

15

9

2

1WA, INSTAND & Interlab

Covid-19, Rift Valley Fever & FSX

Febrile cases, Diarrhoea, Rabies, Polio, Trachoma &

Namanga

112,436

Tanzania

2

2

NPHL-Dar es salam & Ngororo

96,431

24 hrs

2

9

17

2

WHO

Covid-19, Dengue, FSX

Covid-19 & Febrile cases

South Sudan

1

1

Nimule

25,487

8 hrs

1

10

8

2

WHO

Covid-19

Yellow Fever, Rift Valley Fever, Ebola, Hepatitis C&B, Cholera, Salmonella, Shigella & Ecoli


Rwanda

1

2

Kigali International Airport & Rusizi

105,330

8 hrs

1

 

 

2

1WA & WHO

Covid-19

SARS, EVD & Measles/Rubella

Uganda

2

3

Adjumani

77,909

5.5 hrs

2

35

15

2

1WA, INSTAND & Interlab

Covid-19, Ebola

Rift Valley Fever, West Nile Fever & Yellow Fever

Tororo

112,241

Total 

9

 21

 

752,312

 10

10

81

63

12

4 schemes

21 

18 
The project was established under directive (EAC/Health/SCM13/Directive 36). The key objective is to strengthen the capacity of Partner States to rapidly detect and respond to disease outbreaks. This is being achieved through the mobile laboratory networks divided into two phases of implementation. Phase II (2021-2024) focuses particularly on antimicrobial resistance (AMR) surveillance and response.
As of June, 2022, Phase II of the project has registered the following achievements:

Launch of phase II:

this activity was officially conducted in June 2021 at the EAC headquarters in Arusha, presided over by the Hon. Secretary General, the German Ambassador to the United Republic of Tanzania, the EAC Council of Ministers and representatives from WHO, ECSA among others.



Baseline assessment:

the EAC Secretariat technical project experts have conducted rapid assessment / baseline study on status of antimicrobial resistance (AMR) implementation and strategy in relations to GLASS in most Partner States to help inform on strategic implementation of Phase II.



Implementation agreement between EAC Secretariat and the Partner States:

The approved Phase II implementation agreements are ready for signing by the respective Partner States

(

EAC/SCHealth/21/Decision 009

)

.



Nomination and selection of phase II TOTs:

Each

Partner State nominated two (2) laboratory experts for phase II who were subjected to an independent technical assessment by the EAC technical consultants. The nominees were among the existing government laboratory staff who committed to continue working in the national microbiology section / unit during the implementation of the project in phase II.



Training of Trainser (TOT):

the first extensive training of trainers (TOTs) on bacteriological pathogen identification and antimicrobial resistance (AMR) detection, surveillance and response was conducted from 20

th

June up to 8

th

July 2022 (21 days).



Procurement of mobile container laboratories:

the detailed specifications have been agreed by all Partner States and procurement

is ongoing to acquire six (6) additional mobile container laboratories units, equipment and vehicles, designed for antimicrobial resistance in phase II. The procurement is now at the stage of review and approval of tender documents. Further, additional procurement is ongoing for pending p

hase I reagents and consumables for field missions, repair / replacement of faulty equipment, ICT/WBEX and LIMS consultancy.



Maintenance and repairs:

the project recently completed the preventive maintenances of the key mobile laboratory equipment such as the Biorad PCR

machine and ELISA. Further, the renovation, repairs and equipping of the EAC training laboratory building at Arusha is ongoing for microbiology section.



Regional coordination:

the last 9

th

Expert Working Group (EWG) and Regional Steering Committee (RSC) was held in October 2021 in Nairobi, Kenya. The 10

th

EWG / RSC meetings are scheduled to take place in September 2022 in Juba, Republic of South Sudan.



Financial updates:

Phases I and II budgets are at 71% and 1.5% utilization / consumption rate respectively. The value for phase II is significantly low as this phase was launched recently in June 2021 and because procurements and trainings are being implemented or planned.
---
EAC Mobile Laboratories Training on Antimicrobial Resistance and Monkeypox Diagnosis