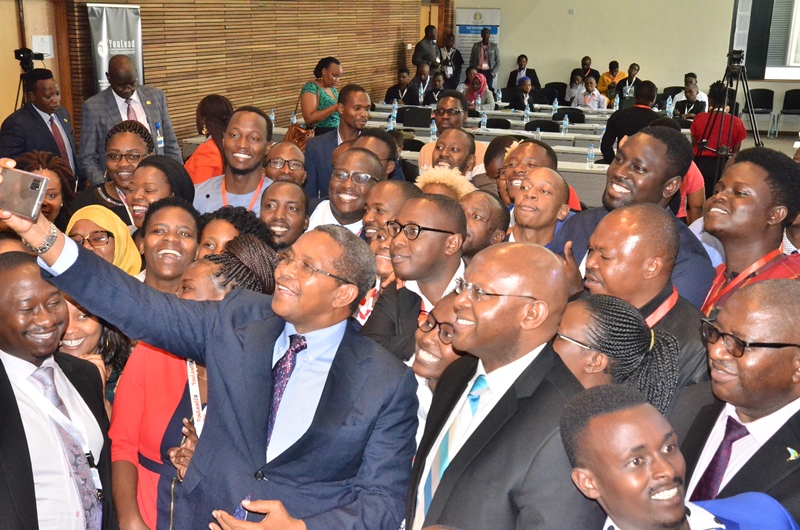 Retired Tanzania President Jakaya Kikwete urges youth in Eastern Africa to sieze the moment and show leadership
East African Community ,Arusha ,Tanzania, 23rd November, 2020: Retired Tanzanian President Jakaya Mrisho Kikwete has called upon the youth in the region to seize the moment and show leadership in politics, business sector, sports and the arts among other fields.
President Kikwete said that digital age has made today's youth a more lucky generation than any other saying that technology and information had made it possible for them to undertake tasks from anywhere including holding virtual meetings.
"Fortunately, your times are different from ours. You have more of everything that we did not have, be it sophisticated tools of work, technology, information and infrastructure that enables you to meet, interact and work together," said the retired Head of State.
The former President was today addressing hundreds of young people from across the six East African Community Partner States who gathered at the EAC headquarters in Arusha and six capital cities in the region to discuss issues pertinent to the regional development agenda.
H.E Kikwete challenged the youth in the region to take the EAC integration process to its highest destination as part of their historical mission.
"My generation has played a part. We have succeeded in some and certainly we have failed in others," averred President Kikwete.
He urged the youth in the region to overcome petty nationalism and thinking small by taking the opportunities presented by the Summit to dig deep and reflect how best, youth can take advantage of the available tools and opportunities to overcome geographical and identity barriers to build a prosperous society and ultimately a Political Federation.
"My expectation is that you will not repeat our mistakes. If necessary, you will make your improved new ones," he added.
Speaking during the same occasion, the Tanzanian President Jakaya Mrisho Kikwete said the EAC acknowledges that young men and women are the greatest asset for the present and future development of the region, taking note that they comprise 65% of population.
The Deputy Secretary General who represented the EAC Secretary General, Amb Liberat Mfumukeko, informed the summit that Article 120(c) of the EAC Treaty provides for adoption of a common approach for the involvement of the youth in the integration process through education, training and mainstreaming youth issues into the EAC policies, projects and programs for strategic interventions.
"I want to inform the youth participating in this Summit that EAC is committed to engage youth as important stakeholders in the all areas of the integration process by providing platforms such as the Annual EAC University Students Debate, Annual EAC Secondary Schools Essay Competition as well as partnering with other organization to enable a wider participation of the youth like YouLead Summit, among others," said the DSG.
Eng. Mlote urged the youth to use the Summit to advocate for space in determining development agenda right from the grassroots.
"The experiences and ideas gained from the previous summit are broad enough to give you a high level of theoretical and practical knowledge that will ground you in regional initiatives in your respective countries," added Eng. Mlote.
On his part, the US Ambassador to Tanzania, H.E. Donald Wright said that nurturing young leaders begins with mutual understanding, adding that international exchange programmes and study opportunities allow participants from around the world to take home the perspectives and skills they gain to build stronger communities back home
The US Ambassador told the hundreds of youth attending the summit that the US was committed to supporting programmes that emphasize mutual understanding and that there were hundreds of alumni who had participated in US exchange programmes in East Africa – a huge network of people with remarkable achievements.
The YouLead Summit 2020 brought together young leaders from various sectors, government officials, development practitioners and policy makers from across the East African region to engage in dialogue addressing issues pertinent to youth in the region.
Among other things, the five-day Summit will deliberate on re-inventing leadership for East African millennials; youth at the centre of peacebuilding and conflict prevention; accelerating economic opportunities and decent work for youth; and young women mobilizing towards Goal 5 of Agenda 2030 (gender equity and women's empowerment) and Aspiration 6 of Agenda 2063.
For more information, please contact:
Simon Peter Owaka,
Senior Public Relations Officer,
Corporate Communications and Public Affairs Department;
Tel: +255 768 552087; Email: This email address is being protected from spambots. You need JavaScript enabled to view it.
About YouLead Summit
YouLead is East Africa's flagship Youth Leadership Development Program seeking to unlock youth leadership potential for a prosperous region. YouLead is a collective action youth program hosted by MS Training Centre for Development Cooperation (MSTCDC) and the East African Community (EAC) Youth Ambassadors Platform (EACYAP) in Arusha, co-owned and supported by the YouLead Consortium of State and Non-State Partners across all the 6 East African Community (EAC) Member States in the spirit of United Nations Agenda 2030 – "Leaving no one Behind" and the African Union Agenda 2063 – "the Africa we want". YouLead amplifies youth voices in key regional governance and development processes and strengthens their mandate to participate in leadership at country level. Two focus areas define YouLead's programs: Youth in Politics - how youth leadership can be entrenched and Youth in Business and Enterprise - how youth can meaningfully engage in entrepreneurship/business.
About MS TCDC
MS Training Centre for Development Cooperation (MS TCDC), a state-of-the-art development management training institution, located in Usa River, Arusha in northern Tanzania. Established in 1967, MS TCDC has gained a reputation for high quality training of civil society organizations and their partners, donors, and government agencies. In addition to Swahili language courses, MS TCDC offers a range of short-term training courses for international development practitioners as well as accredited certificate programs, diplomas, bachelor's, and master's programs. Visit www.mstcdc.or.tz for more information on our year-round language, culture, and training programs.
About EAC
The East African Community is a regional intergovernmental organization comprising the Republic of Burundi, the Republic of Kenya, the Republic of Rwanda, the United Republic of Tanzania, Republic of South Sudan and the Republic of Uganda with its Headquarters in Arusha, Tanzania.
The EAC mission is to widen and deepen economic, political, social and cultural integration to improve the quality of life of the people of East Africa through increased competitiveness, value added production, trade and investments.